With it being Easter and a long weekend, I always try and fit a few matches in so would be at Summerhayes on Friday and Monday and Hebditch's on the Sunday for a charity match which I was really looking forward to. I could have fished at Summerhayes on the Saturday as well but I just can't do four days on the trot, it's my age you know!
The Good Friday match was on Sellicks again so after meeting Terry 'The Toast', Nick P and Jenny in Taunton for breakfast we headed to Bridgy. It was shaping up to be a gorgeous day and the forecast was good all weekend. 13 fishing today so we'd all have plenty of space, the draw got underway and I was first on the list and peg 2 got pulled out, not my first choice but Jeff did alright on it last match. He lost a big eel that day and in all the years I've fished Summerhayes I've never hooked one.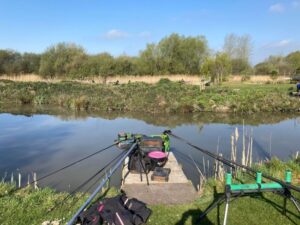 I set up a 0.5 gram Guru Carbon Pinger to fish top two plus two angled to the right, at 8.5 metres straight out and 10 metres to the left plus a little 0.2 gram NG Mini Gimp with strung shot to fish across to the island which was only 11 metres away, both with size 18 Guru F1 Pellet hooks to 0.08mm. On the side tray, I had 2mm and 4mm Bait-Tech Xpands, red maggots, micros plus Special G Dark and The Juice groundbait.
On the whistle I fed all the lines before starting at 8.5 metres with double maggot on the hook, after a couple of minutes, a lovely slow bite and I struck into solid resistance, it didn't feel like a carp and went to ground causing an eruption of bubbles. I'd only gone and hooked an eel and it felt like a good one as it wasn't swimming backwards and made a run to the left before going to ground again and biting me off. Not a good start but I didn't really have much chance with such a light hooklength.
I've then had a really nice spell catching two decent skimmers, a little hybrid and a good roach. The next bite resulted in what felt like a big skimmer but I'll never now as it came off shipping back and then I bumped three fish on the trot! I gave my head a wobble, changed to a lighter elastic and landed the next three skimmers. Glynn up on peg 11 was also netting silvers regularly and there were quite a few carp being caught with James Cook on 6 and Jim Jenner both doing well.
It slowed up at 8.5 metres so I moved to the left hand 10 metre line, it took a while to get a bite but then the float sunk from view and another decent skimmer was on, shipping back carefully, I got down to the top kit and the poxy hook pulled out of that one as well. Next chuck a carp ran me ragged and today definitely wasn't going to plan so far. Back on the line straight out and I hooked another big skimmer, I was just waiting for the inevitable to happen but this time it stayed on and it was a good one of 2lb+.
No more bites there, so with two hours gone, I had my first look on the top two plus two line and I really thought I'd catch straight away but after ten minutes, a bite saw a carp tear off and that was the only action there. The other two lines were also now a struggle apart from the odd carp so I fed them again and went across to the island where I'd been flicking a few maggots since the start. I had a rudd first put in followed by a few roach but it wasn't fast and furious. Glynn came down to get a drink from the hut and said he'd had 8-9lb already, I probably didn't have half that and we were now over three hours into the match.
I felt I needed better skimmers to stand any chance so came back in and rotated round my three shorter swims but the only bite came from the left hand line and it was a rather lumpy carp, I had it on for ages but just couldn't get it's head up. Stripping more and more elastic from the puller bung, I was starting to get the upper hand but then there was an almighty TWANG and the elastic snapped which pretty much summed up how my day was going. I still can't believe the elastic went and not the 0.08 bottom!
So with an hour and a half remaining, I was back across by the island, I started getting some nice roach and also had a nice hybrid about 6oz or so. I was feeding maggots and laying the rig in with quite a few fish coming on the drop. It was getting better and better although twice I've hooked what felt like nice skimmers and both times they've come off shipping back. Of course the inevitable carp muscled in on the action and after all the commotion, bites would tail off for a while. I also had three tiny little carp around 1oz apiece.
With 15 minutes left, Pete gave me the whistle and said he had to pop off site, after he left I had a really good spell and didn't want the match to end. My last fish was a lovely 10oz roach and I blew to signal the all out. The final score was 36 fish (6 or 7 skimmers, 1 rudd and the rest roach) plus a few carp, more fish than I had last time but less skimmers so I thought maybe 8-10lb. I knew I was a long way behind Glynn but thought I might have a chance of second, although Jenny said Nick had caught well too.
Pete got back and I was first to weigh, my carp went 14lb 14oz before I pulled my silvers net out and it was slightly better than I thought at 11lb 14oz. Jenny had a nice carp of 3lb 15oz and then James Cook went into the lead with 45lb 13oz, Jim Jenner was next and he pipped James with 46lb. Then we got to Glynn and it was a lot closer than I thought when he weighed 13lb 10oz to take a nugget off me, Terry had 24lb 14oz of carp on peg 12 and Kev on 13 chucked back.
Nick was next on peg 14 and again it was really close but he went into second place with 12lb 12oz of decent skimmers and a crucian. Jack Wickham weighed 27lb of carp on 15, pegs 17 and 19 didn't weigh and then Steve Collins was on 21. After his silvers and carp were weighed, he went into the lead with 47lb 4oz and we were just about to move to the next peg when he said he had another net of carp! His new total was 96lb 9oz. Last but not least was Alan Jenkins on 23 who had 7lb 11oz.
Overall
1 – Steve Collins (Summerhayes) – 96lb 9oz
2 – Jim Jenner (Summerhayes) – 46lb
Silvers
1 – Glynn Wickham (Summerhayes) – 13lb 10oz
2 – Nick Payne (Ilminster) – 12lb 12oz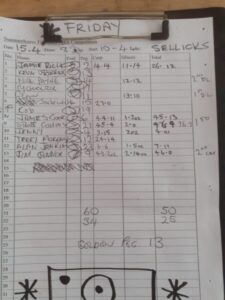 So another lovely days silvers fishing although I did drive home beating myself up a bit, of course everyone loses fish but I've made too many mistakes today.
There's still a great offer running if you fancy treating yourself to some new fishing gear, use the exclusive discount code AgainstMenandFish10 to get 10% off when you shop online at Somerset Angling
I still have copies of my book available from eBay here or Amazon here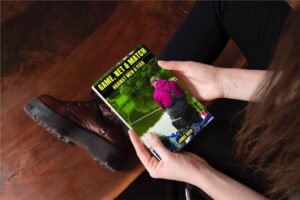 And if you could spare five minutes to leave a nice review on Amazon, it would be very much appreciated.
Next up – Hebditch's Pond
Coming soon – Lots more match reports
Check Out – My last match (below)