For my third match in four days, I was back at Summerhayes and it was on Longs this time. After meeting Nick and Jenny in Taunton for breakfast we headed to the venue. The car park was filling up fast with 21 anglers booked in, unfortunately one of those was The Tart who was seriously flagging after fishing every day. With a bit of luck he'd nod off on his box and fall in the lake!
As I'd been the first person to book in, my name was first out the hat and Pete drew me peg 12, normally a half decent silvers area. When the draw had finished I was in good company with Jess 'Zooner' Jordon on peg 13 and Martin Addicott on the other side so we'd have a laugh whatever.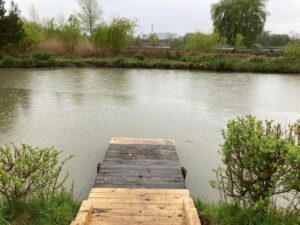 I set up two Guru 0.3 gram AR's, one to fish top two down the edge and 11.5 metres straight out and the other for the same distance angled to the right where is was a little shallower and also top two plus two. Both rigs had size 20 F1 Pellet hooks to 0.08mm (just brilliant hooks and expertly tied as always by Somerset Rig Company). On the side tray I had maggots (dead and alive), micros, 2mm and 4mm expanders plus some Bait-Tech Special G Dark and The Juice groundbait.
On the whistle I fed three lines with loose groundbait and then micros on the longer right hand line before starting on the top two with double maggot. The float settled and then just kept on going, I struck into a decent fish and a nice 10oz skimmer came to the top, what a start! Next put in I had a smaller 2oz sample and was catching little skimbobs well. Just before the first sixty minutes was up, another positive bite resulted in a leaping skimmer around 1.5lb to finish off a really good hour.
Jess was catching silvers from his long line and Martin was landing some decent carp on meat. I could also see The Tart and Rob Birch over on pegs 31 and 32, both looked to be catching well and Brenda was taking great delight in holding up some big skimmers to show me, even coughing to attract my attention.
Moving out to my left hand 11.5 metre line I've had a really good spell catching skimmers between 8-12oz. With two hours gone, I dropped onto the top two line again and hooked a decent fish that didn't feel like a carp and was too lively for a skimmer, it came to the top and a nice 12oz perch was a handy bonus.
I had a few more skimmers and so far, carp hadn't been too much of a pain. I did foulhook one which came off so switched to the other long line and had a couple of 4oz skimbobs but it wasn't fast and furious. Back on my original line, I was getting the odd fish but Jess, who was fishing a bit further across, was starting to catch really well and as we passed the halfway point, I didn't think there was much between us.
Another nice perch from the top two line was very welcome but a first look at top two plus two resulted in no bites whatsoever. Jess was still catching well from his longer whereas mine felt like it was dying, I had another look short and hooked a fish which I hoped might be a big perch but turned out to be a foulhooked carp. To add insult to injury, Jess came in on his short line and had a couple of big skimmers which I felt edged him ahead. With around an hour to go I needed to try and make something happen so started another line at 13 metres.
First drop in, I bumped a small fish and then hooked a rather lumpy carp of 8lb or so that I landed without too much grief. It was obviously that time of day as Zooner started hooking a few from his short line, he even saw one grab his bait as he laid his rig in, the look of anger, despair and resentment on his face as it took off was priceless! We've all been there mate.
My next two fish were decent skimmers and then at the all out, I lifted the rig up to find there was a fish on and a 4oz skimbob finished the day off nicely. I ended up with 32 fish (2 perch and the rest skimmers) plus those two carp. Taking my kit back to the car, I passed Nick on 6 who said he'd caught a few, Jacko on peg 2 had caught well and Glynn on 39 was admitting to 12-13lb.
After loading the car, I caught up with the scales, Jenny had done well on 35 weighing 13lb 8oz (including 4lb of silvers) then Jeff had 11lb 6oz on 34, Rob B had caught some big skimmers for 12lb 12oz and then The Tart on 31 had stayed awake long enough to weigh 109lb 4oz to go into the overall lead.
Vic Bush on 29 had 39lb, Kev chucked back on 28, Paul Purchase did well on 26 with 16lb 6oz to go into the silvers lead and then Roger K came close with 15lb 1oz on peg 25. Next to weigh was Roy Hughes on 19 who was admitting to 10lb but weighed a brilliant 23lb 8oz of silvers which included a big eel. Dave Romain had 50lb 13oz on 17 and then Mark L on helipad 15 weighed 40lb of which 6lb 3oz was silvers and he had two big eels that were intent on not staying in the weigh sling!
Jess was next and had another great net of silvers weighing 15lb 13oz, I didn't weigh my carp and when I pulled my silvers net out, it was going to be closer than I thought and Pete called it at 18lb 8oz which put me second so far. Martin had 70lb 8oz to go into second overall but it didn't last long when Duncan Arnold on peg 8 weighed an excellent 102lb 15oz.
Nick P had 17lb 8oz of carp and 5lb 3oz of silvers on peg 6, Jim on peg 4 weighed 59lb 4oz of mainly carp and then Jacko on 2 pulled out his net and it was going to be close again but luckily (for me!), the digital display settled on 17lb 8oz. Glynn was close to his estimate with 12lb of silvers and then last but not least, Karl (and his porn star 'tache) weighed 56lb 3oz of carp.
Overall
1 – Brendon Ions (Tackle Trader) – 109lb 4oz
2 – Duncan Arnold (Tackle Trader) – 102lb 15oz
3 – Martin Addicott (Summerhayes) – 70lb 8oz
Silvers
1 – Roy Hughes (Summerhayes) – 23lb 8oz
2 – Jamie Rich (Against Men and Fish) – 18lb 8oz
3 – Steve Jackson (Garbolino) – 17lb 8oz
So another cracking match with a string of really close double figure silvers weights, brilliant fishing. I picked up £35 plus a nugget from Jess to take the charity Nugget-O-Meter to £43.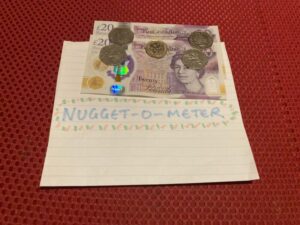 There's still a great offer running if you fancy treating yourself to some new fishing gear, use the exclusive discount code AgainstMenandFish10 to get 10% off when you shop online at Somerset Angling
I still have copies of my book available from eBay here or Amazon here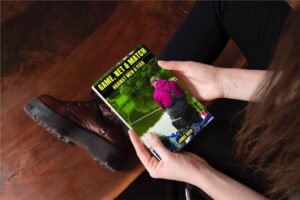 And if you could spare five minutes to leave a nice review on Amazon, it would be very much appreciated.
Next up – Revels
Coming soon – Lots more match reports
Check Out – My last match (below)