Back in 2020, I won some Hybrid Elastic after entering a competition on Facebook, I did a review at the time (which can be found here) and then updated that post nearly a year later with the elastic still going strong. Well it's now a further eight months on from that update and it hasn't needed changing (maybe I just don't catch enough fish!), so really good value and I have to say I've been really impressed with it.
In the original review, I mentioned that I was going to get some lighter grades to try but never got around to it – until now. A post came up on Facebook from the Hybrid Elastic page advertising a new 1mm silvers elastic, they wanted Beta testers so were offering 10 metres for £6 and I got in touch saying I'd like to give it a go. It arrived in good time and is the same shade of green as the 2.0mm elastic.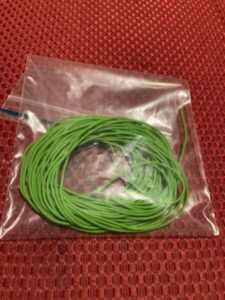 For it's first outing, I used it at Revels and drew the best silvers peg on the lake, it was superb for the skimmers and smaller fish and I can honestly say I didn't bump a fish all day. I even hooked and landed three carp (one in the tail!), although I did have to re-tension the elastic by snipping off a couple of inches.
Update – I've now been using it for well over a month and I have to say I'm still well impressed with it. Along with a great run of silvers results at Revels I even managed to win the last one with 44lb 6oz which included nearly 32lb of carp with one around 10lb which just goes to show what you can land on balanced tackle.
Check them out on Facebook here