For my third match in as many days, I was back at Revels and after a Billy No Mates breakfast in Yeovil I arrived in good time and was one of the first ones there. The car park soon started filling up and along with all the usual suspects Rich Chave was back and on for a hat trick of silvers wins after the previous two Tuesdays.
The draw time soon arrived and we all assembled by the shop to see where we would be headed today, all the talk was that you'd need to be on Dead Tree to win the silvers today. My name was first on the list and Dean pulled out peg 14 for me and my heart sank. I just can't seem to draw away from that island on the left. Incredibly, I've still only drawn one peg at Revels more than once and that's peg 14 which I've now been on four times!
Admittedly I did win off it the last time with 44lb which included 12lb odd of silvers but I didn't think that would do any good today, especially with Alan Winsper and Bob Crisp both up on Dead Tree fishing for silvers. Then you had Rich on 21 and Nigel Bartlett on 7, both good silvers pegs on Main and I was starting to think carp might be my only chance of a pick up today. Was my dinosaur beginning to lose its magic?, it certainly needs recalibrating if nothing else!
Along with the usual 0.3 gram Guru AR's, I set up a heavier rig for down the edge to the right as in the last match I hooked four carp in the first half an hour, a similar start today and I would fish for them. I plumbed up several lines, 10 metres in front, 11.5 metres in line with the point of the island and then a section past it.
On the whistle I fed loose groundbait down the edge to my right plus at 10 and 11.5 metres before starting on the top two plus two line with the heavier rig and three dead reds on the hook. I missed a couple of bites before catching a 3lb carp but then my next three fish were a gudgeon and two little perch and with nearly half an hour gone, the response hadn't been as good as last time so I decided to leave it for now.
At 10 metres, bites came quickly and I was catching skimmers, perch, gudgeon along with the odd rudd and I was already wishing I hadn't spent 30 mins down the edge. Over on peg 7 I could see Nigel landing skimmers and Rich was swinging in small fish on a regular basis. I was toss potting maggots and a little groundbait every put in plus loose feeding maggots over the top as well as keeping the edge fed.
Going into the second hour it was still a bite a chuck and along with lots of small fish, I was getting some nice skimmers and twice I've hooked decent fish that have turned out to be gorgeous crucians around 6-8oz but they don't count as silvers at Revels. I started swapping between the two longer lines and was catching really well although I did bump a couple of skimmers.
Another little crucian put in an appearance and then I've hooked a better fish that didn't feel like a carp and I was hoping it would be a big perch or chub but turned out to be 2lb crucian/carassio type fish that wasn't going in the silvers net either! I've tried caster a few times in a bid to catch quality and would get the odd fish but was waiting too long for bites.
With around two hours to go, I started feeding the 13 metre line and by swapping between the three lines, I've caught steadily including a couple of 8oz perch. Despite lots of carp cruising around, I hadn't hooked another since that one early on but as we headed into the final sixty minutes, as very often happens, more carp started showing. Andy Miller on 12 and John Bass over on 16 started to get a few and I hooked two, landing one about 2lb.
When the whistle went to end the match, I'd had another fantastic days fishing with 100 fish on the clicker plus half a dozen carp of various types! I had more fish than the last time when I weighed 12lb but had smaller fish so guessed I might have between 10-12lb. I took some of my kit back to the car and asked Rich how he'd done and he was admitting to 10lb, he also said Nigel had bagged up with skimmers.
When the scales reached Andy on 12 who weighed 25lb 1oz of carp, I had a quick look at the weigh board and Alan had the best silvers weight on Dead Tree with an excellent 18lb 4oz from peg 40 and Nigel had weighed a brilliant 24lb 8oz of skimmers. Steve Sudworth was leading overall with 50lb of carp from peg 11.
Then it was me and my carp went 8lb 6oz before I pulled my silvers net out and was well chuffed to weigh 14lb 7oz which put me third so far but Rich was still to weigh. John Bass went into second place with 42lb 11oz of carp, Dave Stanbridge on 20 had 20lb 11oz and Mr Chave was last to weigh. When he pulled his net out, I knew it was going to be close but he had loads of perch and a nice bonus chub for 15lb 7oz to push me out the frame.
Overall
1 – Steve Sudworth (Revels) – 50lb 2oz
2 – John Bass (Revels) – 42lb 11oz
3 – Rob Fletcher (Revels) – 27lb 10oz
Silvers
1 – Nigel Bartlett (Revels) – 24lb 8oz
2 – Alan Winsper (Alan's Angling) – 18lb 4oz
3 – Richard Chave (Colmic) – 15lb 7oz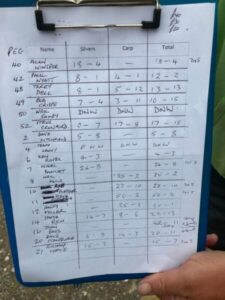 So another really close match and the silvers fishing is just getting better and better but I did drive home kicking myself a bit. That half an hour spent down the edge fishing for carp at the start of the match probably cost me third spot but of course that's with the benefit of that wonderful word, hindsight. The thing is I'm normally very good at remaining focused and catching silvers but thought I was being clever by trying to catch some early carp.
The flipside to that is if I'd caught another carp or two early, I would have framed overall as 27lb was third and I weighed 22lb 13oz in total. Or with 'hindsight' if I'd have gone back down the edge when carp 'o' clock arrived, I might have caught the extra fish I needed. But as I haven't got a time machine (and my dinosaur had a rare off day!), it's all ifs, buts and maybes.
That's the beauty of what we do and why it's so addictive, no two days are ever the same, I could draw peg 14 again in similar conditions and get my head down trying to catch silvers and weigh 4lb for nowhere or 16lb and win.
There's still a great offer running if you fancy treating yourself to some new fishing gear, use the exclusive discount code AgainstMenandFish10 to get 10% off when you shop online at Somerset Angling
I still have copies of my book available from eBay here or Amazon here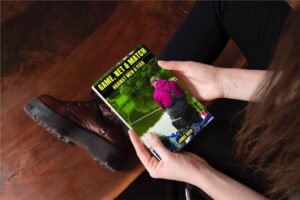 And if you could spare five minutes to leave a nice review on Amazon, it would be very much appreciated.
Next up – Higher Farm
Coming soon – Lots more match reports
Check Out – My last match (below)