For the Bank Holiday Monday we were at Summerhayes and the match was on Sellicks again, I met Nick and Terry for breakfast in Taunton and then it was on to Bridgwater. Another great turnout of 17 anglers including Adie Bishop who I haven't seen for ages. All too soon it was time for the draw and as I'd booked in first my name was top of the list. The golden ball was first and today number 10 was the bonus peg.
Pete pulled out 14 for me which was at the top end and after initially being quite disappointed, I realised it was where Nick was second in the silvers with nearly 13lb the last time we were here. Nick then got drawn 15, The Tart was on 16 with Glynn next to him on 17. Rob B was my neighbour to the right and Zooner Jess was over on peg 10.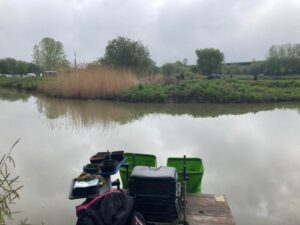 I set up a 0.6 gram Malman Pencil to fish top two plus two and a couple of lines at 10 metres to the left and straight out and then a little 0.2 gram NG Mini Gimp with strung shot to fish across to the island at 13 metres, both with size 20 Guru F1 Pellet hooks to 0.08mm. On the side tray, I had 2mm and 4mm Bait-Tech Xpands, red maggots (alive and dead), micros plus the new Special G F1 which I'd mixed with some Pro Nat Fine Lake Dark.
I was ready with ten minutes to spare so a few of us went and got a coffee before the start. Pete got us underway and I fed a little loose groundbait at top two to my left as a throwaway line before feeding the same at top two plus two and ten metres out in front and lastly the other long line received half a pot of micros. There were already quite a few carp moving around and I said to Rob it could be carnage today.
I started at top two and after a couple of minutes, the float dipped and slid away, I struck, half expecting a carp, only for a 2lb skimmer to leap clear of the water, what a start! The next bite did result in a pond pig tearing off but thankfully the hook pulled, I then had a chunky 4oz perch and things were ticking along nicely. Rob had landed a nice crucian and Nick was catching some decent skimmers. The Tart hadn't got off to a great start, losing a few carp and trying to pull the island closer on a couple of occasions.
Moving out to ten metres, I was getting the odd skimmer along with the inevitable vermin, Rob landed another big crucian and Nick had a nice little tench so there probably wasn't much between us at this early stage. I was feeding maggots across regularly but as per usual, I wanted to leave it as long as possible before trying it. There was a lot of banter flying about but due to the M5 and the railway line behind us, thankfully it drowned out a lot of the guff that the Tart was spouting!
I kept having a look on the micros line but never had a bite there and similarly, the top two plus two line just resulted in a lost carp so I went on the ten metre line and carried on getting the odd decent skimmer. With just over two hours to go, I was dying to have a go on the 13 metre line which I'd been feeding with maggots from the start. First put in, the float buried and after a short scrap I landed another carp which I hoped wouldn't be a sign of how the remainder of the match was going to go.
Next chuck I had a small roach, then another and then a clonker that required the net, it was a bite every put in and it just got better and better. I started getting some nice skimmers as well but was sure it was only a matter of time before the carp moved in. Nick was also now fishing across and catching well much to the delight of Brenda and Glynn who were cheering every fish he landed.
What followed was an awesome two hours fishing with Nick and me going fish for fish, he would get a couple of nice skimmers to convince me (and his cheerleaders) that he'd gone ahead but then I'd reply with a burst of fish including some lovely roach and I just didn't want the match to end. We only hooked a couple of carp between us across which really surprised me and on the whistle, my clicker was reading 65 fish (skimmers, roach, rudd and that perch) plus I had 6 or 7 carp. I had no clue what weight I had, only that it was going to be close between Nick and me.
After packing up I walked round to watch the weigh in and get some photos, apparently Jess had done a decent silvers weight as well. Jim Jenner was on peg 2 and after several nets of carp, his total was a brilliant 131lb 12oz. Adie was next on peg 4 and admitting to 70lb, he weighed 71lb 3oz which is accurate estimating! Kev on 5 had 23lb 10oz and then Martin Addicott on 6 had fished for silvers and weighed 13lb 12oz.
Pegs 7 and 9 didn't weigh and then we got to Zooner, he had a lovely net of silvers for 14lb 10oz, Pete on 11 weighed 46lb 10oz of carp and Rob chucked back on 13. My silvers went 24lb 1oz and I didn't weigh my carp. Nick pulled his net out and he also had a fantastic net of silvers for 19lb 2oz.
The Tart had 52lb which had me thinking I should have weighed my carp as our side bet was evens. Glynn had chucked back around 10lb of silvers and we'd gone double or quits on the nugget from last time. Terry 'The Toast' didn't weigh on 19 and then Rob Wylde on 20 had another cracking silvers weight of 16lb 3oz plus 28lb 5oz of carp. John Moore on 22 weighed 56lb 10oz to push The Tart out of the frame and then young McKenzie had done well on 23 to weigh 39lb 14oz.
Overall
1 – Jim Jenner (Summerhayes) – 131lb 12oz
2 – Adie Bishop (Summerhayes) – 71lb 3oz
3 – John Moore (Tackle Trader) – 56lb 10oz
Silvers
1 – Jamie Rich (Against Men and Fish) – 24lb 1oz
2 – Nick Payne (Ilminster) – 19lb 2oz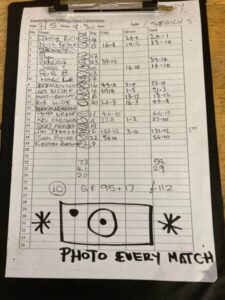 What a lovely days fishing, I picked up £58 for the silvers win and a nugget off Zooner to take the charity Nugget-O-Meter to £58. The whole day was just brilliant from breakfast to the banter and the fishing, the silvers sport is just superb and I can't wait to come back again.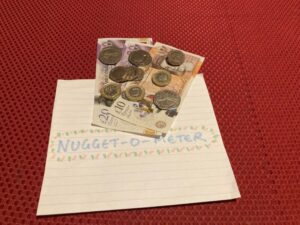 There's still a great offer running if you fancy treating yourself to some new fishing gear, use the exclusive discount code AgainstMenandFish10 to get 10% off when you shop online at Somerset Angling
I still have copies of my book available from eBay here or Amazon here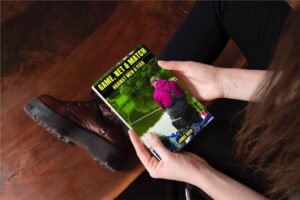 And if you could spare five minutes to leave a nice review on Amazon, it would be very much appreciated.
Next up – Revels
Coming soon – Lots more match reports
Check Out – My last match (below)