Stoke AA raise a lot of money for the Oncology Unit at Yeovil Hospital (I think it was a fantastic £2000 last year) and it's a cause close to so many peoples hearts as there aren't many that haven't been touched in some way by cancer. Chris White very recently lost his daughter, Ruthie, to that vile disease so he and Harry came up with the idea of a three match series to remember her and raise some more money at the same time.
I felt honoured and privileged to receive an invite to fish and of course said yes, people got on board with Rob securing £100 sponsorship and the lovely Chanter buying a trophy and medals for the top three. Harry arranged with the pub in Stoke-sub-Hamdon so we could all meet up for food beforehand and it's things like this that make you realise what a lovely bunch of people most anglers are.
We assembled at a very relaxed 11:45 for brunch and it's always nice having a laugh and something to eat, very often fishing is about more than just fishing as get togethers like this prove. Then it was across the road for the all important draw, Harry announced there would be a mystery golden peg prize and peg 7 was the bonus ball for this evening. Everybody was hoping for pegs 3 or 4, Andy B went into the bucket first and then launched his ball across the car park when he saw he was on peg 11!
Nobody was admitting to either of the fliers and I hadn't looked at my ball yet, was I destined for my favourite peg 3 again? I opened my fingers and the number 9 was staring back at me, not my first choice but I wasn't too upset as it can be alright. Norts was on 3 and the Grand Wiz had the last peg in the bucket which was peg 4, almost written in the stars wasn't it. My neighbours for the day were Terry 'The Toast' on 10 and Jenny was the other side on 8.
The pond looked gorgeous but given that it was a hot day, there weren't as many carp cruising about as I was expecting. I set up a 0.6 gram Drennan AS5 Pencil float to fish two lines at 11.5 metres, one with micros and corn and the other with groundbait and maggots plus a Drennan Crystal Dibber for fishing shallow. On the side tray I had several pints of reds, casters, corn, micros, 6mm's and Bait-Tech Special G Dark and The Juice groundbait.
Harry got the five hour contest underway and I fed micros and corn straight out, groundbait and maggots at 11.5 metres angled to the right and was also pinging some 6mm's out at the same distance but to the left. You normally catch quite quickly here but it took a while to get my first bite, Norts and GW were having no such worries and into fish from the off and Harry was also catching well on peg 12.
After about ten minutes, my float sailed away and I was into a decent fish but then everything went slack and the rig came back with a scale on the hook. I did get off the mark not long after with a little 4oz pastie and when I had a nice fish around 5-6lb along with two net roach and a rudd on corn, I was thinking a decent result could still be on the cards but then I couldn't get a bite again. Andy had a couple of early fish but was now struggling as was Terry and as far as I could tell, Dennis on peg 1 and Sam in 2 hadn't had much either.
I did pull out of a carp but it just wasn't really happening, a look shallow resulted in a small carp but that was it. Back on the micros line, I've hooked two decent carp in as many chucks and both have come off and I was already sensing it wasn't going to be my night. With a couple of hours gone, Grand Wiz was obviously on for a big weight and I was already fed up with seeing his elastic out, Norts had slowed up after a good start but would still be there or thereabouts although I couldn't see how anybody on my left was doing.
I've tried treble maggot on the groundbait line and had a small roach straight away so switched to double caster and after a short wait, a positive bite saw me playing a carp and when I had a decent skimmer next chuck, I thought I might be able to put a few fish together. It was short lived though and it was back to just getting the odd small roach so I put a grain of corn on and had a second skimmer but bites were few and far between.
Despite trying shallow several times, I haven't had another bite on it and I've ended up just fishing maggot for roach and another little skimmer. After packing up, I went round to watch the weigh in and get some photos, Dennis on peg 1 had 3lb 6oz, young Sam weighed 1lb 15oz (mainly small fish) and then Norts went into the lead with 50lb 1oz but we knew it wouldn't last very long as the Grand Wiz had four nets in!
He was next and with all his nets weighed, his total was a brilliant 114lb 7oz, well done mate! Steve 'The Pole' was on 5 and had 2lb 12oz which was mostly little roach, Nick P weighed 26lb 10oz on peg 6 and then Rob C next door had 9lb 14oz.
Jenny on peg 8 had lots of little carp and silvers for 10lb 7oz and then my carp went 13lb 2oz and my silvers was called at 5lb 3oz. Terry 'The Toast' had caught a few carp late to weigh 25lb 11oz. Andy B on 11 had 15lb 5oz and then Harry had done really well from a peg not many would have fancied to weigh 62lb 14oz which earned him second place.
So The Grand Wiz won the inaugural round of his dear Ruthie's Cup and everyone was genuinely stoked for him, Harry was second and Norts third, I picked up £15 for winning the silvers.
1 – Chris White (Stoke) – 114lb 7oz
2 – Harry Hebditch (Stoke) – 62lb 14oz
3 – Chris Norton (Stoke) – 50lb 1oz
Silvers
Jamie Rich (Against Men and Fish) – 5lb 3oz
For the next round, we will rotate round the pond with pegs 1-4 fishing 5-8 next time and so on, that means my group of four will be on the near side with a one in two chance of drawing the coveted pegs 3 or 4. With Ruthie's Cup being decided on points, I need to draw one of those two pegs (and get a good result!) or any chance of a top three finish is out the window. Points after round one are as follows,
Chris White – 114lb 7oz – 12 pts
Harry Hebditch – 62lb 14oz – 11 pts
Chris Norton – 50lb 1oz – 10 pts
Nick Payne – 26lb 10oz – 9 pts
Terry Morgan – 25lb 11oz – 8 pts
Jamie Rich – 18lb 5oz – 7 pts
Andy Burns – 15lb 5oz – 6 pts
Jenny – 10lb 7oz – 5 pts
Rob Cox – 9lb 14oz – 4 pts
Dennis Hawkins – 3lb 6oz – 3 pts
Steve Parker – 2lb 12oz – 2 pts
Sam Hinton – 1lb 15oz – 1 pt
Nine of us bunged a quid in the side bet pot which Chris very kindly donated to the charity Nugget-O-Meter and along with a pound from Harry for the other week, the total now stands at £118 and is building nicely.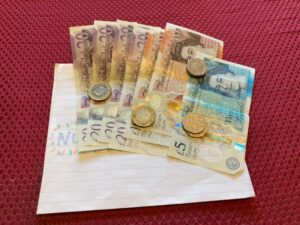 Lastly, a massive thanks to the Hebditch family for allowing us to use their lovely pond, also to all the anglers for making it such a lovely evening and thanks to Chris for the invite and well done again.
There's still a great offer running if you fancy treating yourself to some new fishing gear, use the exclusive discount code AgainstMenandFish10 to get 10% off when you shop online at Somerset Angling
I still have copies of my book available from eBay here or Amazon here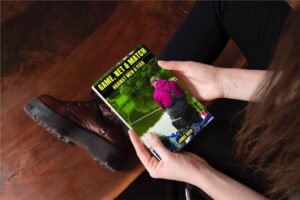 And if you could spare five minutes to leave a nice review on Amazon, it would be very much appreciated.
Next up – River Parrett
Coming soon – Lots more match reports
Check Out – My last match (below)