I'd booked some time off work with lots of fishing planned over the next few weeks at some of my favourite venues, starting with a Tuesday trip to Revels. Up bright and early and after another really nice breakfast in Yeovil, I was soon pulling into the entrance to the fishery.
Fourteen anglers fishing today with Main and Dead Tree lakes being used, I really fancied the latter but was well happy with peg 2 on Main. Only the second time I've drawn it after my first ever visit when I had a lovely day catching 14lb odd of silvers including a barbel and two chub.
I set up a Drennan 0.4 gram Carp 1 to fish 10 metres straight out, a 0.3 gram NG Mini Gimp to fish down the edge and a 0.3 gram Guru Carbon Slim to fish through the water. A sparse selection on the side tray today with just red maggots plus Bait-Tech Special G F1 and The Juice groundbait.
On the whistle I fed two balls of groundbait at 10 metres before starting down the edge feeding maggots, bites came quickly from small perch between 1-3oz. I was also loose feeding at top two straight out and could see the odd better rudd swirling for the maggots. After thirty minutes I had around 20 perch but couldn't resist having a go for those rudd. I tried the lighter rig and varying the depths but apart from some more perch and a couple of roach, those rudd weren't playing ball.
Andy Miller was on the next peg and although I couldn't see him, there was lots of splashing going on and according to Bob Crisp on peg 6, he was bagging on silvers. With an hour gone I was itching to go out on the longer line where hopefully the skimmers would be waiting. I swapped rigs, shipped out and toss potted in a little loose groundbait, a positive bite saw me bump a better fish and then I couldn't get a bite!
It probably took another ten minutes for the next indication which was a lovely roach around 8oz and then I had a 4oz skimmer next chuck. I was just thinking a decent day was still on the cards but then couldn't get bite again. Bob also heard from his brother who was up on Dead Tree and said they were bagging up on silvers, so with Andy also doing well, any chance of a silvers pick up had gone. There were quite a few carp swimming around the island and I kept thinking I ought to have a go for them as normally 30-40lb is enough to frame overall.
I tried fishing past my feed which resulted in a couple of fish, the shallower rig was a waste of time so I fed a new line at 11.5 metres and had a two skimmers quite quickly. Then I hooked a fish that pulled a fair bit of elastic out and got my hopes up but turned out to be a 4oz carp. It just wasn't happening and things got even worse when I hooked a fish that absolutely tore off and headed up towards Andy. I slowly began to get the upper hand but it soon became apparent it was foul hooked and I eventually reversed a 2lb carp into the net.
Knowing I was going nowhere fast and just going through the motions, I decided I had to do something different, so with two hours to go, I got another top kit out with black hydro and set up a little dibber rig. Pinging some 6mm pellets across to the island and flicking the rig out with 14.5 metres of pole, the tip was wrenched round after five minutes or so and I landed a 3lb carp without too much trouble.
I had another three carp quite quickly and was cussing myself for not doing it earlier, then I saw a decent fish and an attempted mugging was successful, this was a bigger fish and after doing all the hard work getting it away from the island, I was down to the top kit but couldn't get its head up. I wasn't worried about it breaking me as I had robust kit on and then I saw it and it was nice fish, probably 8-10lb. It came to the top and I readied the net only for the poxy hook to pull out – gutted.
I did manage two more smaller carp but also pulled out of a foul hooker that went round the island and hooked what felt like better fish but that came off as I shipped back. When the whistle went, I was convinced that fish lost at the net was going to cost me.
The scales reached me after weighing Dead Tree where Alan Winsper had caught a fantastic 36lb 2oz of silvers on peg 48 and Nigel Bartlett on 50 had also done 15lb 15oz. Thanks to Dean Hodder for the photos*
My seven carp (and that tiny one) weighed 21lb and my silvers added 4lb 8oz. Andy had a nice net of silvers for 14lb so I'd definitely done the right thing by fishing for carp but should have done it two hours earlier. Bob had 6lb 1oz on peg 6, Terry L on 8 weighed 34lb 6oz and then Paul Wyatt had 42lb 4oz on peg 10. Wayne chucked back on 11, Chris A went into the lead on peg 12 with 46lb, Neil S had 21lb on 16 and Dave didn't weigh on 20. Thankfully that lost fish didn't cost me but I'd certainly missed a chance today as there were a lot of carp in the peg.
1 – Chris Albiston (Revels) – 46lb
2 – Paul Wyatt (Revels) – 42lb 4oz
Silvers
1 – Alan Winsper (Alan's Angling) – 36lb 2oz
2 – Nigel Bartlett (Revels) – 15lb 15oz
Well I got that one all kinds of wrong, when I drew it the first time, I felt I didn't do the peg justice and was dying to have another go, today just proved no two days are ever the same when it comes to fishing. Taking Alan's weight out of the equation, the weights were close again with just a couple of fish between first and third overall and second and third in the silvers. I can't wait to come back for another go.
There's still a great offer running if you fancy treating yourself to some new fishing gear, use the exclusive discount code AgainstMenandFish10 to get 10% off when you shop online at Somerset Angling
I still have copies of my book available from eBay here or Amazon here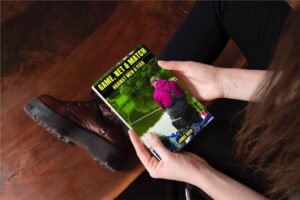 And if you could spare five minutes to leave a nice review on Amazon, it would be very much appreciated.
Next up – Hebditch's Pond
Coming soon – Lots more match reports
Check Out – My last match (below)