On Sunday it was back to Summerhayes for the match on Longs which I was looking forward to as I haven't been for a few weeks, me, Rob, Nick and Jenny met in Taunton for brekkie before heading to Bridgwater. When we got there I was pleasantly surprised when Pete said the match was on Sellicks as I really enjoy fishing it and we haven't been on there for a while.
After a coffee it was time for the draw, starting with the golden peg, which today was number 9 and when my name was called out, that was my peg for the day. Rob C was on 7, Nick was over on 12 and Dick Bull was next door on 10. The level of the pond was a good 18 inches down and lots of carp could be soon moving about. I set up a 0.3 gram NG Mini Gimp for top two, 5 metres and 10 metres plus a Guru 0.3 gram AR for across at 13 metres. Today's side tray had lots of maggots, micros, 2mm and 4mm expanders plus some Bait-Tech Special G F1 and The Juice groundbait.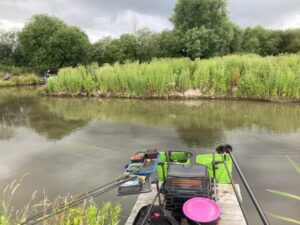 I was ready with plenty of time to spare so went for another cup of coffee and was talking to Nick and Jenny when Jess came over and let me have a float I'd lost the last time I was here when my elastic snapped playing a carp, nice one Zooner! On the whistle, I fed all my lines with some loose groundbait with the exception of 13 metres where I fired some maggots across.
I started on the top two to the right with double maggot and it took a while to get a bite which turned out to be a little 2lb carp. After a couple of missed bites I had a nice roach and then hooked a fish which flattered to deceive and turned out to be a 12oz carp rather than the crucian or tench I was hoping for.
It had started out hot and sunny but then it got very dark and began raining quite hard and as an added bonus, the wind was getting up and would be a pain. Moving out to 10 metres, my first fish there was another small carp but then I've had a nice skimmer and although I was having to wait for bites, I was getting the odd skimmer and roach. Dick was catching carp well, Rob had landed a few and I'd seen Nick land a couple of fish but couldn't really see how anybody else was doing.
With around two hours gone, I had five skimmers and three roach for about 3lb but carp were already starting to be a real pain. I'd been feeding across regularly but wanted to leave it a bit longer. Over the next hour I had three more skimmers but with 5lb in the net and half the match gone, things would need to improve if I was going to do any good today.
I re-fed my lines before picking up the other rig and going across with single maggot on the hook, after a few minutes, a positive bite resulted in a nice amount of elastic coming out before I shipped back and netted a mint 8-10oz roach. A slightly smaller one next chuck and then a couple of 2oz fish and I was getting regular bites and really enjoying it. I've had a lovely hour or so catching roach along with two skimmers and although I hooked a couple of carp they weren't being too problematic. I did lose a decent roach and had what felt like a skimmer come off as I was shipping back.
The wind was now being a real pain in the backside and my loosefeed was going all over the place. If the last sixty minutes had been really nice, the next hour was anything but! Every bite was resulting in a carp tearing off with foul hookers being a problem, I've tried fishing away from the feed in different areas along the far bank but only added a couple more little roach.
With an hour to go, I was fed up with hooking carp so came back to 10 metres and after a little wait, a positive bite resulted in skimmer number 11. That'll do I thought, a few more skimbobs from this line and a decent result was still possible but then the next two fish were carp and I was scratching my head again. Dick was still bagging on carp and went to get another net with half an hour to go.
I'd been trickling in some micros on the five metre line all match so with quarter of an hour to go, had a look, I missed a couple of nice bites before briefly hooking a fish that didn't feel like a carp and that was the last of the action. I finished up with 30 fish (11 skimmers and 19 roach) plus carp of course. After packing up, I took some of my kit back to the car and asked Rob Birch on peg 3 how he'd done, he said he'd really struggled for 3lb.
I loaded the car and then caught up with scales as they were weighing Alex on peg 4, looking at the weigh board, Rob's 3lb had turned into 11lb 2oz and his estimation skills are worse than mine! Alex had 7lb 6oz of silvers and 62lb 13oz of carp, Tom on 6 had 20lb 7oz and then Rob C had 22lb 12oz. My carp went 39lb 12oz and then my silvers net was close but not close enough at 9lb 13oz.
Dick's three nets of carp plus a big eel totalled 107lb 12oz to go into the overall lead. Nick had a similar day to mine, getting carped out and weighed 8lb 4oz of silvers which included a nice tench. Jim on 13 had 57lb 3oz and then young McKenzie did well on 14 weighing 51lb 7oz. His dad was next door and had 7lb 2oz of silvers and then Jess weighed 7lb 15oz of silvers and let me have a nugget.
Roger C on peg 19 weighed 14lb 8oz of mainly carp, Kev on 21 had 40lb and then Adie was last to weigh on 23, after two nets of carp and some silvers, he took the win with 116lb 1oz.
1 – Adie Bishop (Summerhayes) – 116lb 1oz
2 – Dick Bull (Summerhayes) – 107lb 12oz
Silvers
1 – Rob Birch (Summerhayes) – 11lb 2oz
2 – Jamie Rich (Against Men and Fish) – 9lb 13oz
So I sneaked second in the silvers and picked up £30 plus nuggets off Jess and Nick which takes the charity Nugget-O-Meter to £108 as it continues to build nicely. I was a bit gutted to be only 1lb 5oz off winning the golden peg but I thought I was miles away from doing any good today. If I could fish that match again, I wouldn't have spent so long across and would have tried the five metre line earlier but of course that's with the benefit of my old friend, hindsight!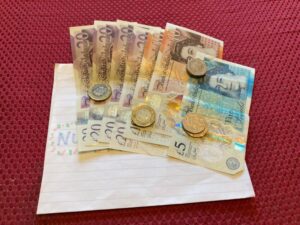 There's still a great offer running if you fancy treating yourself to some new fishing gear, use the exclusive discount code AgainstMenandFish10 to get 10% off when you shop online at Somerset Angling
I still have copies of my book available from eBay here or Amazon here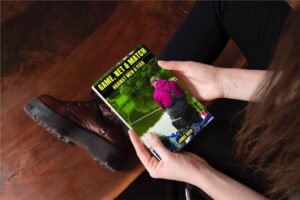 And if you could spare five minutes to leave a nice review on Amazon, it would be very much appreciated.
Next up – Revels
Coming soon – Lots more match reports
Check Out – My last match (below)