I've fished this event for the last two years and although I've enjoyed doing something a bit different, it's made me realise how out of my depth I am with this type of fishing. I met Andy, Norts and Terry in Yeovil for breakfast which was very good. All the talk was how we wanted to avoid Whitepost as it can't compete with the lakes on the main complex. Andy made a good point when he said it might actually be our best bet at qualifying with lower weights expected to win the sections there.
We then headed off and after a 40 minute drive pulled into the fishery car park which was already rammed with anglers and vehicles everywhere. It's always quite exciting and there's a real buzz about it as you wait for the draw. There were quite a few local faces I recognised including Dave White, Ashley Tomkins, Roy Worth and Dave Chidzoy. After paying our pools, Norts went into the bucket and pulled out a peg at Whitepost for the second year running, I drew 76 on Homeground which is a good one and then Andy and Terry drew next to each other on Ash.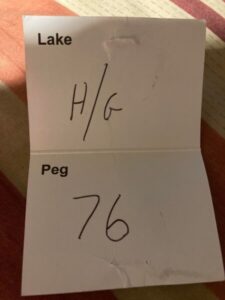 My peg looked really nice with a long margin to the right and Dave Chidzoy was my neighbour on the left so we'd have a laugh today. Dave Willmott was on 91 which was the next peg round to my right so I'd see plenty of fish caught. Ash had drawn 82 which is also very good and as a venue regular who fishes it twice a week, he'd be there or thereabouts at the end of the match.
There were loads of carp moving about and several were hooked as we were setting up! I didn't have an island chuck so left the rod in the bag and set up three rigs, one for top two plus one straight out, another for down the edge to the right where it was only 8 inches deep and a rig for fishing shallow out longer (not used). My bait selection was fairly simple today, corn, micros and Bait-Tech 6mm Carp and Coarse pellets.
The all in was signalled and I fed some micros and corn in front and then as I went to feed the margin line, Dave was already into a carp on the feeder! First put in with corn on the hook, the float buried and I hooked a nice carp around 4-5lb only for it to come off at the net which wasn't a great start. I landed a couple of smaller carp and then had a 6oz skimmer which I chucked straight back as I thought I'd be needing my four nets for carp.
All around the lake people were catching carp with a lot of fish coming to the method feeder in the early stages. I was getting odd fish but it wasn't really happening while Dave was already pulling away from me as he was catching really well. Carp were waving their tails at me in the margin and when I had another skimmer from my other line, I felt I had to make the switch as I was going nowhere fast.
To be honest, I didn't really get the response I'd hoped for, despite at times there being tails all around my float, I was only getting odd carp although they were decent fish to 8lb. Foulhookers were also a problem and after an hour I had around 30lb but was already well off the pace. I was getting little runs of fish but was waiting too long in between and I don't think the lack of ripple was helping, although me not knowing what I was doing was probably the bigger issue!
A nice roach of 8oz snaffled my 6mm pellet and was returned but when I had a pound plus skimmer not long after, I decided to put it in my fourth keepnet, because at this rate I wouldn't be needing it for carp! I'd clicked 57lb with nearly two hours gone and started my second net. Ash had been catching well on the feeder but switched to the pole and went into overdrive. The chap on his right was catching really well on the method, Dave Willmott on 91 and the bloke on 90 were also both bagging.
Over the next couple of hours, I clicked around the same weight in my second net and had started number three, at one stage I thought I might have to chuck my skimmer back but at the all out I'd clicked 54lb. I knew I hadn't done any good as far as the match was concerned but I was pretty sure I'd beaten my best match weight which had stood at 155lb 14oz for a long time.
Todber's Guy Manton and Garbolino's Glen Picton arrived to weigh in our lake and were starting with me, Tony Curd was there from Match Fishing magazine to take photos of the section winners so he wouldn't be taking the lens cap off for me! Now I'm quite well known for under estimating my weights but today I'd over estimated and my clicking skills left a lot to be desired! I thought I had around 170lb but actually weighed 155lb 4oz so was agonisingly short of a new pb and to make matters worse, remember the two skimmers and a roach I chucked back!
Dave Chidzoy weighed 185lb odd and then I'm not sure of the rest of the weights on my lake as I was packing up. I do know Ash weighed a staggering 349lb which was top on Homeground and there were several 200lb+ including pegs 90 and 91. After putting my kit in the car, I went over to see Andy and Terry, they'd both done okay weighing 104lb and 109lb respectively with 200lb+ winning their lake. Over on Hill View, Tony Gilbert had won the lake and match with 360lb! To me that kind of weight seems unachievable, I was catching 30lb an hour, Tony was doing 72lb an hour, that's more than double what I was catching! I'm not even sure how people do that!
We phoned Norts to see how he'd done and he said he'd won his section with 97lb so had qualified for the final, get in mate! What a fantastic result and we were all well chuffed for him, good luck in the final, we'll all be rooting for you.
I haven't got the full results but when Match Fishing mag comes out, I'll try and remember to update this post.
I must admit after days like this, I drive home feeling pretty deflated on a personal level as it makes you realise not only how bad I am at this kind of fishing but also how good some of the guys that fish are. Obviously the anglers that fish Todber twice a week, every week are going to be so much more in tune with it and that much better compared to somebody like me who only fishes it once a year.
Now that basically leaves me with three choices, I either;
start fishing Todber and similar venues exclusively (with all the travelling, expense and batterings that entails) to reach an decent standard at this kind of fishing
stop entering the Garbolino Club Angler of the Year
or just take it for what it is, a really enjoyable day and a great experience
Looking at the first point, it's not really an option for me as I enjoy visiting different places, I love fishing rivers and natural venues and when I do go to commercials I fish for silvers as that's what floats my boat. Catching big weights of carp just doesn't really appeal to me. So for me I will keep entering as I think it's a fantastic event and I'll be trying to beat my pb again next year (and I won't be chucking any silvers back!).
Fishing is becoming (or has already become) a very specialised and fragmented sport and I have touched on it in some of my various 'Random Rambling' posts so I won't go over it all again here but a couple of key points are worth mentioning I think. For your average angler who works full time and in many cases has a family, they only get to fish once a week (if that) which means there just isn't the time to become good at everything. With so many different methods, venues and types of fishing, if you want to become regularly successful, you have to specialise.
There are anglers who fish one venue almost exclusively or stick to commercials or natural venues (within that, there are some who pretty much only fish rivers and others who like reservoirs), you have feeder specialists, F1 experts, anglers who love canals or massive weights of carp or whip fishing or concentrate on a particular bait (paste, hemp or bread to name a few).
I'm in danger of rambling here but I suppose what I'm trying to get across is that for the vast majority of anglers, the old adage of 'Jack of all trades…' has never been more true. Of course lots of anglers like doing different things and that's fine as long as you're realistic and prepared for some spankings (like me today) but it could get a bit demoralising after a while.
At the end of the day it's all about enjoyment, I'm loving my fishing, I do have my favourite venues but I also like to visit some new places and try different things occasionally, Dave Chidzoy said he'd help me catch a flounder, so I might be able to tick that one off my wish list soon!
There's still a great offer running if you fancy treating yourself to some new fishing gear, use the exclusive discount code AgainstMenandFish10 to get 10% off when you shop online at Somerset Angling
I still have copies of my book available from eBay here or Amazon here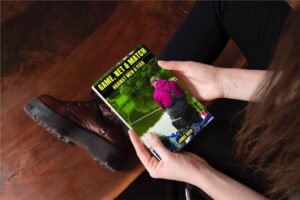 And if you could spare five minutes to leave a nice review on Amazon, it would be very much appreciated.
Next up – Summerhayes
Coming soon – Lots more match reports
Check Out – My last match (below)