Summerhayes was the destination for Sundays match which was on Longs. There was a great turn out of 21 anglers and Pete got the draw underway starting with the golden peg and the number 3 was plucked from the bucket. My name was midway down the list and I got peg 13 for the day, a decent area for silvers. Jacko ended up on peg 9 again and didn't moan at all! Roy Hughes was on 15 with Geoff Young next door on 12 and looking well prepared for the hot weather!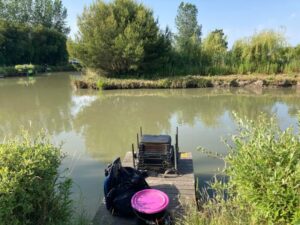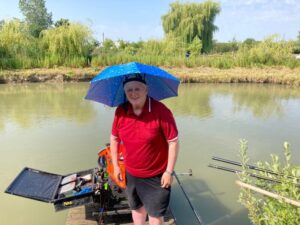 Geoff's travelling partner, Chris, warned me that Geoff had his new wonder bait with him, garlic flavoured pellets and that they ponged a bit, so much so that they he wouldn't have them in his van overnight! I thought he must be jesting but when Geoff opened his bait bag, the stench hit me like a ton of bricks, this could be a long match!
I set up a 0.3 gram NG Mini Gimp for top two, 5 metres and 10 metres plus a Guru 0.3 gram AR for a line at 11.5 metres angled to my left in the open water where it was a bit deeper. On the side tray I had a pint and a half of maggots, micros, 2mm and 4mm expanders plus some Bait-Tech Special G F1 and The Juice groundbait. I also had a cool bag packed with ice blocks containing water, a frozen drink and another two pints of maggots.
On the whistle I fed all my lines with a little loose groundbait and some maggots while Geoff unleashed his stinky pellets on the poor unsuspecting fish! I started down the edge on the top two with single maggot on the hook, after a minute or so, the float sunk from view resulting in a nice 3-4oz skimmer. Some smaller fish followed and I was getting regular bites, I've also hooked one that came straight out of the water before I netted a nice 12oz skimbob.
Roy was getting a few on the waggler and Geoff was landing some nice silvers and odd carp although bizarrely they were all coming to the surface holding their noses! Although it was hot, there was a nice breeze which was also doing a good job of blowing the garlic smell away from me although poor Mark Vigar on the other side of Geoff was downwind of the poisonous smog surrounding peg 12.
After a good first hour I've had three decent skimmers plus some smaller ones for around 3lb but also had that weird phenomenon where the float has gone under but before I've had time to strike a big skimmer has come flying out the water. I also hooked two carp, landing one right at the end of the first sixty minutes and ended up spending a further fruitless ten minutes on the top two line.
I went out to 10 metres and it took a while to get my first bite which was from a hand sized skimbob. Bites started coming regularly and I was catching quite well although on a couple of occasions, skimmers have jumped out the water and the float hasn't even moved! I did hook one leaper that went crazy and I could see it was hooked on the side of the head only for the hook to pull out at the net!
Roy was still catching quite well although I felt it was quite close between us and then going into hour three, I've hooked a big skimmer around 3lb that leapt several times but thankfully stayed on and I landed it safely. Whenever the breeze died down, the overpowering garlic stench would return and I even started speaking French for a little while ! At the halfway mark I probably had  9-10lb and was doing well but predictably going into the last two hours, I began hooking more and more carp.
At one stage I've hooked two in two chucks at 10 metres so dropped back in on the top two line and hooked another so I've gone onto the 5 metre line where I've dripped in some micros from the start and guess what? Yep, another carp was there waiting for me. That left the 11.5 metre line in open water which I'd kept topped up but after an age, I had a bite which I missed!
Roy was also suffering with carp trouble but in between he was landing some nice skimmers which I felt put him ahead of me and I'd gone from catching well to struggling. I tried fishing a section past the feed out in front and was getting the odd smaller skimmer but still hooking carp which seemed to be everywhere now. Geoff had landed some lumpy carp but one obviously didn't like the small of garlic as it jumped back out of his keepnet!
I've had a few fish as I've laid the rig in and with five minutes to go, had one around 4oz and then next chuck hooked what felt like a better skimmer but as I've shipped back it's come off and while I was cleaning the slime off the line, Pete blew for the all out. My final tally was 30 skimmers plus some small fish which I thought would go around 12lb or so. I knew Roy had beaten me and with Rob B and Glynn on pegs along the track, I was expecting them to have caught well.
After packing up, I took some of my kit back to the car, I asked Jacko how he'd done on that rubbish peg 9 and he replied he had getting on for 30lb! Nick P said he'd been carped out on 5 but had caught some silvers. Pete arrived to start the weigh in with Tom R on the golden peg, he had 28lb 6oz, Nick weighed 21lb 9oz of carp and 10lb 5oz of skimmers and Nick Ewers on 7 had 58lb 15oz of mainly carp.
Jacko had a lovely net of skimmers and roach weighing 26lb 2oz and then Mark V had 25lb 5oz of mainly carp on peg 11. Geoff 'The Garlic Man' Young had some nice skimmers for 7lb 2oz and added 38lb 4oz of carp for a 45lb 6oz total. I didn't bother weighing my five or six carp and then my silvers went 13lb 3oz which I didn't think would be any good today. Then Roy had an excellent 17lb 13oz of mainly skimmers to go into second place.
Toby on 17 weighed 38lb 5oz, peg 19 chucked back, Mark Leahy on 21 had 44lb 8oz, peg 24 didn't weigh and then Rob B on 25 had some nice skimmers for 11lb 5oz. Alex K weighed 39lb 9oz on 27, Rob C had 31lb 8oz on 28 and then Glynn weighed a level 9lb of silvers and I was still hanging on in third spot.
Nick Chedzoy had done well on 31 to go into the lead with 81lb 15oz, peg 33 had chucked back and then Chris W next door weighed 5lb 12oz of silvers and 78lb 5oz of carp to go into top spot with 84lb 1oz. Adie on 36 had 38lb 15oz and then last to weigh was Terry 'The Toast' on 37, he had 2lb 8oz of silvers before his two nets of carp added 82lb 3oz to win it by 10oz.
1 – Terry Morgan (Ilminster) – 84lb 11oz
2 – Chris Whitham (Torquay) – 84lb 1oz
3 – Nick Chedzoy (Thatchers) – 81lb 15oz
Silvers
1 – Steve Jackson (Garbolino) – 26lb 2oz
2 – Roy Hughes (Summerhayes) – 17lb 13oz
3 – Jamie Rich (Against Men and Fish) – 13lb 3oz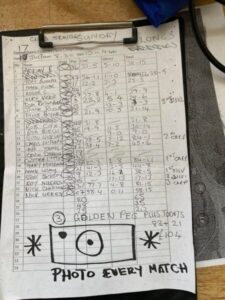 So a really close match with just one carp separating the top three and some really good silvers weights as well. I picked up £20 for third plus a nugget from Nick and the Nugget-O-Meter benefitted by an extra £9 as Nick very kindly picked up some bait for me and Rob but wouldn't accept payment and said to stick it in for the charity, you're a star mate.
I'd booked next week off work and had several matches planned but they've all been cancelled due to the heat so my next outing will now be the Parrett next Sunday.
There's still a great offer running if you fancy treating yourself to some new fishing gear, use the exclusive discount code AgainstMenandFish10 to get 10% off when you shop online at Somerset Angling
I still have copies of my book available from eBay here or Amazon here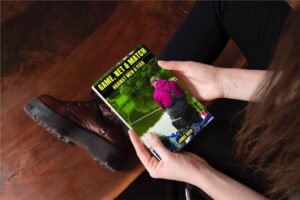 And if you could spare five minutes to leave a nice review on Amazon, it would be very much appreciated.
Next up – River Parrett
Coming soon – Lots more match reports
Check Out – My last match (below)