If you read the blog regularly, you might recall I went to Stoke AA's presentation night and really enjoyed it (you can read that post here) but it also got me thinking about the trophies IAA used to compete for and that I kind of miss that side of it. In this day and age of social media, fishing results are instantly forgotten, hero on a Sunday, zero on a Monday or something similar! Why shouldn't we be proud of our achievements, if you've won the club championship or league surely you're entitled to your moment of glory.
Call me daft but I also quite like the idea of being part of a clubs history, our own little legacy, wouldn't it be great if in 50 years time, some keen young angler looked at the names on a trophy and wondered who that person was and which swim on the Isle he or she caught the winning weight from? Anyway I'm digressing, I made a few enquiries, thinking perhaps they'd been disposed of or were in somebodies attic, never to be seen again.
Steve Lonton replied saying yes they were in his mum's attic and he'd get them down for me! His dad, Pete, who passed away in 2021, had been a club stalwart for many years and along with the trophies there was a box of paperwork containing the minutes of meetings and AGM's. Steve Parker very kindly picked it all up for me and let me have it in the week. I haven't had chance to look at any of it yet but I intend to try and get as much info as possible on here, starting with the trophies and who won them over the years.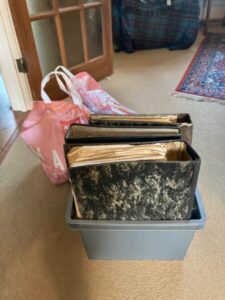 Of course it might not be of interest to a lot of people but I think it would be a massive shame not to document the rich history of the club somewhere and just let it disappear into obscurity as we lose a lot of the old guard from that era as there sadly aren't that many left now.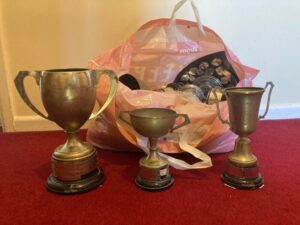 Update – I've made on start on looking through all the paperwork and this could be quite a mammoth task! The paperwork goes back to the early '70's although it looks like there's a gap between 1997-2006 and it only goes up until 2013, I've only had a quick flick through it but there's some really interesting stuff in there.
Most of the trophies seem to be there but like for many of us, the years haven't been kind! I'm hopeful that between the paperwork, my records and the trophies themselves, I'll be able to get together a comprehensive list of the winners over the years (starting with The Club Cup in the next post).
I think we very often look back at 'The Good Old Days' through rose tinted spectacles and some of the earlier match results make fairly grim reading. As an example I found the results from the IAA Open on 20th February 1977, a staggering 97 anglers fished (where did we put them all?, we struggle to find 20 pegs nowadays!) and the top weight was just 3lb 15oz.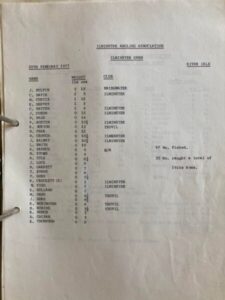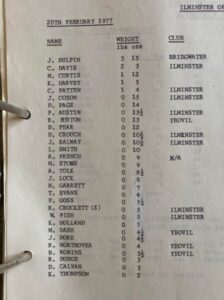 Just 30 anglers caught fish, amassing a grand total of 19lb 6oz between them! Some familiar names there as well, Chris Patten in fifth place with 1lb 4oz, John Coxon had 15oz and Dave Crouch weighed 10.5oz. Nigel Garrett is in there with 7oz and is that ex Kamasan Champion and England International, Mike Stone, with 9oz?
Or there was an inter-club fixture on 27th February 1977 which Ilminster won with their top twelve anglers recording 38lb 3oz to Newton Abbot's 20lb 12.5oz. 49 anglers fished with 32 catching a total of 62lb 11.5oz. The winner S Hill picked up £12.50 with 7lb. Roger Russell had the heaviest fish on the day with a 2lb 5oz chub. Lots of other names there I recognise including a certain M Smith from Newton Abbot, that's the infamous 'Smithy' who I fish with in the Chard matches and always used to bring on delicious cakes and talk about otter dogs and the swim by the old oak tree!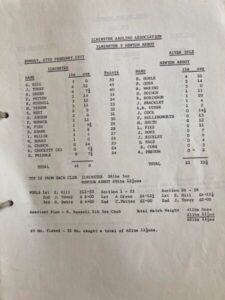 As I go through it, I'll try and post on a semi-regular basis, as always, any feedback welcomed.