I always enjoy my Tuesday trips to Revels starting with the obligatory breakfast of course! As I pulled up outside the shop, Dean had only just opened up which meant I was first on the list when draw time came around. I have mixed feelings about being top of the list, it does obviously mean all the pegs, good and bad are still in the bucket but I quite like being lower down the list so hopefully all the ones I don't want go first, it doesn't always work like that though!
Others started arriving, including Bob C who showed me the latest innovation to help keep you cool in this hot weather, The Fan Hat! The draw time arrived and we headed back up to the shop to see where the bucket of doom would put us. With 13 anglers booked in, we were all on Main Lake today. Dean delved into the bucket and pulled out peg 2 for me again, I must admit to being a bit gutted as I'd struggled to catch silvers last week and switched to trying to catch carp and didn't do a very good job of that either!
On the plus side, as we were all on Main, we didn't have to contend with Dead Tree which has been dominating the silvers weights. Bob and Andy Miller hadn't moved far from last week either with Bob shifting one peg to number 7 and Andy was on 6 after drawing 4 the previous week. Nigel Bartlett had drawn peg 12 which isn't normally very good for silvers.
I set up a Drennan 0.4 gram Carp 1 to fish two lines at 8.5 and 10 metres straight out, a 0.3 gram NG Mini Gimp to fish down the edge and a 0.3 gram Guru AR to fish shallow and through the water. I also set up a Drennan Crystal Dibber for mugging/shallow. A few more menu items on the side tray today with red maggots, casters, 6mm pellets plus Bait-Tech Special G F1 and The Juice groundbait.
After last week, I decided to do a few things differently, starting with fishing down the edge to my right instead of left and at top two rather than top kit plus one, two longer lines and also the carp rig and pellets on standby. On the whistle I fed groundbait on the two lines before starting down the edge feeding and fishing maggots, I was also loose feeding casters short straight out.
It took a few minutes to get my first fish which was a small perch and then I started catching really well, nearly all small perch with the odd better one around 4-6oz. I could see Andy catching and using his landing net on a regular basis. With half an hour gone, I had 30 fish on the clicker but once again I was getting distracted by some quality rudd and roach swirling for the loose feed on my short line straight out.
I should have known better but I couldn't resist having a go for them with the shallow rig and once again they were having none of it although I did manage a couple of smaller samples plus some decent perch on caster. Back down the edge I had some more perch and a few gudgeon but bites were slowing up and hooking my first carp around 3lb didn't help matters. I got to 50 fish in just over an hour but probably spent ten minutes too long fishing that line.
Moving out to the 8.5 metre line, I couldn't believe it when the float just sat there, despite the swim bubbling like a jacuzzi! 10 metres was next and as I lay the rig in, the float buried on the drop, a fair bit of elastic came out on the strike before I landed a nice skimmer. A couple more followed which got me thinking I'd cracked it but it was short lived.
Andy was still catching skimmers, Jimmy Crisp opposite on peg 22 was landing carp on the feeder and with Rene bagging on 8 and Alan W on 16, which is a great carp peg, I thought it was pointless fishing for carp now even though there were loads cruising about. It was very muggy and humid and when it began raining, it was very refreshing (my coat was in the car!).
After that brief flurry of fish at 10 metres, I came back to 8.5 metres and again had another couple of skimmers on the drop. By swapping between those two lines after every two fish along with the odd look past the feed at 11.5 metres, I've caught skimmers quite well although rather annoyingly, I've pulled out of several shipping back.
I was still feeding down the edge but there were some big lumpy carp down there, just swimming about taking the odd floating caster off the top but if they were there, they weren't aggravating me on my longer lines! A decent spell of skimmers on the deck followed and then I hooked what felt like a good fish but the hook pulled out. Andy was still catching well but he was also now hooking quite a few carp. In the back of my mind I kept thinking I should be trying the strung out rig on the longer lines but as I was still catching quite a few skimmers, I stuck with it.
With the amount of carp cruising about, I was amazed I'd only hooked the one so far but I certainly wasn't complaining! Going into the last half an hour I picked up the strung out rig and laid it in keeping a tight line, the float buried and I landed a nice 8oz skimmer. Next chuck I had a small perch but on the next put in, I've hooked a 5lb carp that took me a while to get in with number 6 Slip elastic! I still had time to go back out and catch a roach followed by a nice skimmer to end with a flourish.
It left me wishing I'd tried the lighter rig earlier but I also reckon I'd have hooked more carp. My clicker was reading 102 fish which I thought would give me 10-12lb and although I thought it would be close, I felt sure Andy had done me. The scales arrived after weighing Jimmy who had done well on 22 with 47lb 6oz of carp, my silvers went 13lb 8oz which I was pleased with and I chucked back my two carp. Thanks to Dean Hodder for the photos*
As I finished packing up, the scales headed off around the lake. Back at the car park, I saw Bob who had weighed 10lb 5oz of silvers and said Andy had 12lb 5oz, so it had been really close. Then Nigel got back and he'd weighed a brilliant 17lb 14oz which included some decent skimmers, a really good weight from that peg. Rene had the top weight on the day with 87lb 5oz of carp (and a 1lb 2oz barbel) from peg 8 followed by Alan Winsper with 62lb 8oz from peg 16. Rich Butler weighed 59lb 13oz on peg 10, Paul Wyatt had 51lb 1oz next door on 9, Terry on 14 weighed 36lb 10oz, Neil Newman on 20 had 22lb 11oz and Dave S on 21 weighed 11lb 12oz.
1 – Rene (Revels) – 87lb 5oz
2 – Alan Winsper (Alan's Angling) – 62lb 8oz
Silvers
1 – Nigel Bartlett (Revels) – 17lb 14oz
2 – Jamie Rich (Against Men and Fish) – 13lb 8oz
I picked up £25 for second in the silvers and really enjoyed that, looking forward to my next visit already.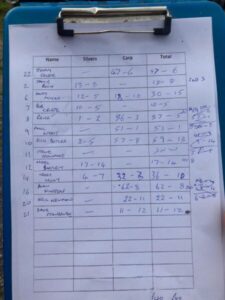 There's still a great offer running if you fancy treating yourself to some new fishing gear, use the exclusive discount code AgainstMenandFish10 to get 10% off when you shop online at Somerset Angling
I still have copies of my book available from eBay here or Amazon here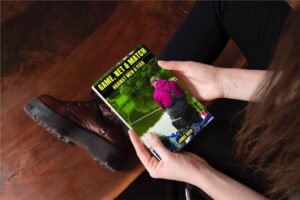 And if you could spare five minutes to leave a nice review on Amazon, it would be very much appreciated.
Next up – Summerhayes
Coming soon – Lots more match reports
Check Out – My last match (below)