A nice long Bank Holiday weekend can only mean one thing…. lots of fishing! First up was a Saturday match on Sellicks at Summerhayes. I met Nick P and Steve 'The Pole' at the bowling club for breakfast (thanks Drew) before heading to Bridgwater. There were nine booked in for this one which was slightly disappointing and then two of those didn't turn up!
Todays golden peg was 23 and when Toby B got drawn it, there was a good chance he'd be going home with a big fat envelope. I ended up on 13 at the top which wouldn't have been my first choice but Zooner had it last week and was second in the silvers so hopefully I might have a decent day.
I set up a 0.3 gram NG Mini Gimp for top two to my right, 5 and 10 metres plus a little Guru 0.2 gram for 14.5 metres across, around a metre off the far bank. On the side tray I had four pints of red maggots, 2mm and 4mm expanders plus some Bait-Tech Special G F1 and The Juice groundbait.
On the whistle I fed some loose groundbait on the three shorter pole lines before flicking a few maggots across, starting on the top two, I had a nice skimmer first chuck followed by several roach before hooking my first carp. When I hooked two more in quick succession it was time to have a look at 10 metres.
Parker 'The Pole' was on peg 15 and already suffering from carp trouble, I could see Mark S on 19 and Nick P (peg 6) getting odd skimmers while Sam W on 9 was catching carp well. I couldn't see how Toby or Kev on peg 3 were doing.
I had a couple of skimmers from the 10 metre line but carp were already being a pain in the bum and my cause wasn't helped when I lost one and the rig flew back at a rate of knots, leaving me with a tangled mess and the float no longer attached to the line! After sorting another rig out I also landed a carp that picked up a waggler and some line on the way in and my side tray was beginning to look like a rest home for knackered rigs!
With a couple of hours gone and all three of my shorter lines infested with carp, I've had my first look across and it was a massive anti-climax with just a small chublet to show for my efforts. The mid-match entertainment was supplied by Steve who hooked a carp and while playing it, managed to knock his number four section in the lake. After he netted the fish, I got off my box and went to see if I could help him retrieve it, after locating it on the bottom with his landing net pole, I screwed my weed cutter on the end and we found the missing section. Well, Steve 'Half a Pole' Parker hasn't got the same ring to it has it?
Back on my peg, things hadn't improved and my day got even worse when I hooked a carp and as I was about to land it, the elastic snapped and I said goodbye to another of my favourite rigs. My hooklength box was also emptying at an alarming rate and I really wasn't enjoying myself at all.
I spent most of the remaining time across but it was just carp after carp, I tried fishing away from the feed but they were everywhere. Mark was catching skimmers regularly and on for a good weight while Sam was bagging up on the carp but would it be enough to stop Toby on the golden peg. After packing up I went to watch the weigh in, Kev on peg 3 had done well, weighing in 105lb 6oz and then Nick had 43lb 4oz which included 10lb 5oz of silvers.
Sam was next and had a massive 208lb 6oz, I had 38lb 2oz of carp and 5lb 3oz of silvers, Steve P weighed 40lb 4oz and then Mark had a brilliant 21lb 9oz of silvers. Toby was admitting to around 170lb and weighed 188lb 2oz so pretty accurate clicking from him.
1 – Sam Williams (Summerhayes) – 208lb 6oz
Silvers
1 – Mark Saunders (Summerhayes) – 21lb 9oz
Nick won the £3 side bets which he said to add to the Nugget-O-Meter (cheers mate) and the total now stands at £181 with hopefully some more to come over the next two days.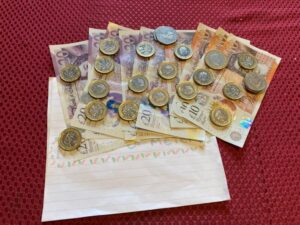 There's still a great offer running if you fancy treating yourself to some new fishing gear, use the exclusive discount code AgainstMenandFish10 to get 10% off when you shop online at Somerset Angling
I still have copies of my book available from eBay here or Amazon here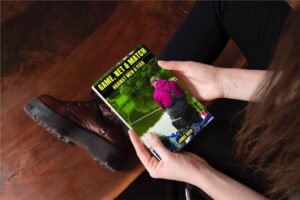 And if you could spare five minutes to leave a nice review on Amazon, it would be very much appreciated.
Next up – Charity Pairs
Coming soon – Lots more match reports
Check Out – My last match (below)