The second match of the weekend was the charity pairs with one angler on the Parrett and the other at Birds Quarry. My partner was the gorgeous Mr Steve Chant who would be on the lake and I would fish the river. The event was well attended with twelve pairs taking part, the Ilminster contingent met for breakfast at the bowling club (thanks Drew) and the Stokies went to the Ranch (thanks Kirsty).
After eating we headed to Parrett Works for the draw, looking at the pegs being used, I was hoping for one of the pegs at the bottom of the stretch, preferably 28, 29 or 32 and wanted to avoid 7 and 13 where I'd really struggled in recent matches. People started drawing their pegs and when Danny B said I didn't need to worry about 13 as he had it, I thought it was safe to go in the bucket. I grabbed a little wooden peg and when I looked I was on 23 and it took a little while for my brain to process what my eyes were seeing. Peg 23 was one I'd drawn last year and came stone cold last in the match with my worst ever result on the Parrett when I weighed 8oz (mainly small fish!).
In the two matches it's been used this year, it's done 1lb 3oz and 1lb 4oz, gutted wasn't the word for it, if anything, I think I'd rather have 13! I'd still be giving it my best shot though as it was a pairs match. As for the fancied pegs, Nick P was on 32, Parker 'The Pole' on 29, Nick Chedzoy on 28, Dan Mattock on 16 and Cliffy on 9.
Parking up by the river, I took my kit to the peg before giving the Grand Wiz a hand with his gear down to 31. As I passed Parker there were loads of fish topping below him on 30 (which isn't used). Back at my peg, my mood improved slightly when a fish topped opposite me and then a couple more below me.
I set up three rigs, a 1 gram bodied rig for down the middle, a 0.5 gram DH16 for fishing across with 0.14mm to a 16 B611 and another identical float but with 0.10mm to a size 20 Guru Match Special, the usual maggots, casters and hemp were on the side tray. Plumbing up I remembered how hellishly deep it was, nearly top kit plus one so I had to put another rig on. The bottom was all over the place which I don't think helps either (is that enough excuses yet?).
On the whistle I potted in some hemp with a few casters down the middle at 10 metres and also flicked some casters across to the right of the bush. Starting with single maggot I had a gudgeon first chuck and although it wasn't fast and furious, I was getting a few bites and even had a little roach. Minnows were already a nuisance though and double maggot and even caster wasn't deterring them.
I got up to around a dozen fish (not including minnows) after an hour but the swim was already fading. Picking up the shallower rig I missed a bite first put in and then the float buried and on the strike loads of elastic streamed from the pole tip, but only briefly as the hook pulled out and that gutted feeling was back as I felt I'd just missed my chance of that all important bonus fish.
No more bites down the middle so I had my first look across above the bush and had two little roach and a decent dace but it was short lived. Another little flurry of gudgeon down the middle on the deep rig saw the clicker struggle up to 18 fish for around a pound but we were now nearly halfway through the match and the swim had died a death.
Bank walkers reported Cliffy on 9 and the Grand Wiz were both catching well and Dave Pope on 25 had just landed a big eel. With two hours to go, I couldn't get a bite anywhere and even the minnows had now shut up shop so I chopped up some maggots and casters and potted them in down the middle and just held the rig over it, hoping to catch an eel or two.
I did miss a bite after 45 mins but time was running out and I was resigned to another really bad result, I was just praying I wasn't going to let my partner down too badly. Then with half an hour left, I had a lovely slow, deliberate bite and as soon as I struck I knew it was an eel, not a huge fish but at 8oz it was very welcome. Next chuck, the rig settled and the float slid away, this time it was a nice 4oz roach and there were still fifteen minutes remaining but that was the last of the action and I ended up with 23 fish plus minnows.
After packing up, I went to watch the weigh in, as we reached Parker, his pole woes had continued from the previous day as there was a top kit and rig hanging from a tree opposite! Nick Chedzoy came to the rescue with a carp pole and a feeder rest on the end and managed to retrieve the top kit, rig and all. Nick P on 32 had three chublets and a nice dace for 1lb 15oz but had lost several decent fish, the Grand Wiz on 31 had a nice mixed bag including a quality perch, roach, rudd, dace, eels, gudgeon and minnows for 4lb 10oz.
Parker 'The Pole' had some quality roach for 2lb 7oz on peg 29 and then Nick C went into the lead with a lovely net of quality roach and rudd (along with a little carp) on hemp and tares for 5lb 3oz from peg 28. Dave Pope had also done well with 3lb 14oz  which included some eels, roach and he had a little carp as well but had also lost a chub at the net.
Chris Deedee had some nice dace in his 1lb 14oz and then my fish went 2lb which was respectable compared to the last time I drew it. Chris Haines did well again with a near identical catch to his first visit, he weighed 3lb 6oz on peg 17. Dan M on 16 had 1lb as the chub hadn't fed for the second match running and Danny B on 13 weighed 1lb 7oz.
Cliffy had a lovely net of fish including a chub and quality dace for 5lb 12oz and Dennis H on 7 weighed 1lb 5oz but had lost a decent carp.
Back at the results at and some nice bags of silvers had been caught at the quarry with tench, perch, roach and rudd but the top two both caught a bonus carp, Dave Chidzoy had the top weight with 13lb 4oz (including a carp of 8lb 9oz) and Roy Worth landed one of 6lb and added 5lb 1oz of silvers for second.
Nick Veale had the best silvers weight with 10lb 10oz and then there were several close behind, Jake Berkley weighed 10lb, Kev Francis had 9lb and then Chanter weighed 7lb 11oz. Andy Burns had 7lb 5oz, Rob Wylde weighed 6lb 8oz, Harry 5lb 9oz, Norts 5lb 3oz, Sam 4lb 11oz and Rob C 3lb 5oz. Thanks to Chris Norton for the photos*
1 – Cliffy Gaylard & Jake Berkley – 5pts
2 – Dave Pope & Roy Worth – 6pts
3 – Chris Haines & Nick Veale – 8pts
Section winners
River – Nick Chedzoy – 5lb 3oz
Quarry – Dave Chidzoy  – 13lb 4oz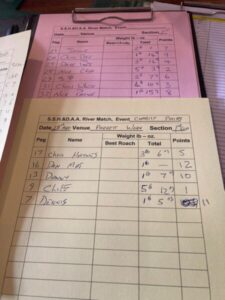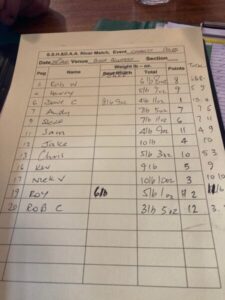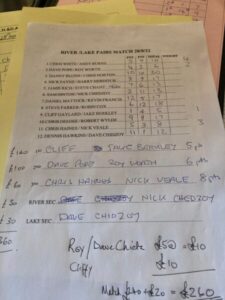 Cliffy and Jake were the winners with a combined score of 5 points after two great results, well deserved, Dave and Roy were the runners up with 6 points and Chris and Nick were third with 8 points. Chanter and me had a combined score of 13 points and I don't feel quite so bad about losing that fish now as even if it had been 4lb, we still wouldn't have won!
The club would like to say a massive thanks to Adam Chamberlin and HMS Heron for the use of Birds Quarry, Ilminster Bowling Club and The Ranch for looking after everybody in the morning and the Bell Inn at Ash for letting us have the results there.
Biggest thanks of all go to the 24 members of Stoke AA who in fishing the match gave generously to the club charity. Combined with individual donations from Dave Chidzoy, Roy Worth and Cliffy Gaylard the day realised £260 with the running total now past the £1,000 mark at £1,021 which is just fantastic.
Chris White won today's side bets and added it to the Nugget-O-Meter which is now at £184 and climbing steadily so hopefully by November, a tidy sum will be added to the charity.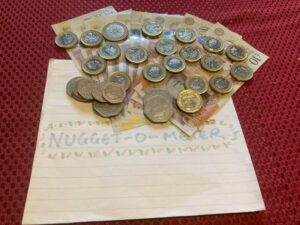 There's still a great offer running if you fancy treating yourself to some new fishing gear, use the exclusive discount code AgainstMenandFish10 to get 10% off when you shop online at Somerset Angling
I still have copies of my book available from eBay here or Amazon here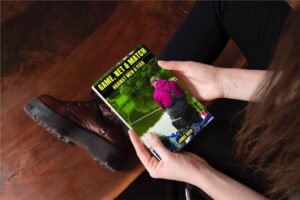 And if you could spare five minutes to leave a nice review on Amazon, it would be very much appreciated.
Next up – Summerhayes
Coming soon – Lots more match reports
Check Out – My last match (below)