After a disappointing Bank Holiday weekend so far, I was hoping for better things today. The Breakfast Club assembled at Nicks for food which was lovely and as he wouldn't accept any payment, the Nugget-O-Meter benefited by £10. On arriving at the fishery, I was a little surprised to see only ten booked in but I think there were several festivals on locally which had probably diluted the turnout.
Pete announced the draw and I predicted the golden peg would be 17 and it was! My name was first to be called out so now I just needed the same number to come out again but peg 5 was my home for the day which I was still happy with as it's normally a good silvers area. Nick was next out and got 17 so I came close. Parker 'The Pole', ended up on 15 again, Kev was on 21 and then Zooner and Roy were on 23 and 19 which are both good silvers pegs. Daryl B was on 2, Glynn was next along from me on 8 and Terry 'The Toast' and Sam W were up on 12 and 14.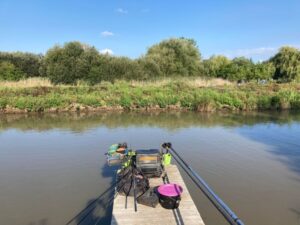 I set up a 0.3 gram Guru AR for top two to my right, 5 and 10 metres plus a little 0.2 gram Guru AR for 14.5 metres across, around a metre off the far bank. On the side tray I had lots of red maggots, 2mm and 4mm expanders plus some Bait-Tech Special G F1 and The Juice groundbait.
On the whistle I fed all my lines before starting on the top two, this line is normally worth a few fish quite quickly but I've foulhooked two carp in the first five minutes which wasn't a great sign. Moving out to 10 metres, I was straight into more carp and I was already getting a feel of how the day was going to go. With an hour gone, I had two decent skimmers but I'd already hooked eight carp! Glynn looked like he was having a similar day to mine judging by all the elastic coming out and head shaking that was going on. Daryl was bagging on carp but I couldn't really see how anyone else was doing.
Going into hour two, I had a roach on the drop but carp were being a right pain, a quick look on the five metre line just resulted in two lost carp and I was already thinking about going right across to 14.5 metres. Then out of the blue I had two skimmers in quick succession which made me stick with it a bit longer. All the lines I'd fed were fizzing like mad and I tried fishing away from the bubbles but that wasn't working either.
Approaching the half way point, I went across, fully expecting a flurry of fish but apart from a little chublet first chuck, I wasn't getting any bites. Eventually a positive bite saw yellow hydro stream from the pole as a carp went under the far bank and then snagged me – great! With the fish long gone, I had to pull for a break and the rig flew back at the speed of light but at least I'd got my float back. Oh wait, on closer inspection, the tip had snapped in half so another of my favourite floats was heading for the rig graveyard.
I got another rig out but as is often the way, even though it was an identical float, it wasn't quite the same (if that makes sense!). Back to 10 metres I was getting the odd skimmer in between hooking lots of carp, Glynn said he had eight or nine and I think I was a couple behind him. I was fed up with hooking carp so out of desperation, tried fishing the top two just past my keepnets where I hadn't fed anything so far.
After a few minutes, the float sunk from view and I struck into yet another carp, it moved off and then stopped before a lovely big 2lb skimmer came to the top, that's more like it! The next two bites were carp so with just over an hour left, I decided to spend the remaining time at 14.5 metres.
I started getting a few bites, mainly small roach and the odd rudd but at least I wasn't hooking carp. Then I had a skimmer followed by a couple of net roach and was beginning to enjoy myself. Glynn wandered down as he was fed up with losing hooks, rigs and elastic, while he was sat behind me, I had a skimmer and a rudd before hooking another carp.
On the whistle, my clicker was reading 26 fish (10 skimmers, roach, rudd and that chublet) plus I had around 10 carp. I packed up and went to help Pete with the weigh in and get some photos, Daryl had 119lb 11oz of carp, then my silvers went 8lb 9oz and my carp 26lb 8oz. Glynn weighed 5lb 13oz of silvers and said apparently Jess had bagged up over on 23.
Terry 'The Toast' was next and had a massive 216lb 9oz on peg 12, Sam W on 14 also recorded a big weight with 186lb 12oz on paste. Steve P weighed 31lb 6oz which included 3lb 12oz of silvers and more importantly he had no pole troubles today! Nick was admitting to 5lb of silvers but weighed 13lb 14oz (he's getting as bad as Roy!).
Mr Hughes was next and had 11lb 4oz, Kev weighed 88lb 6oz on peg 21 and then Zooner plonked a fantastic 25lb 8oz of skimmers in the weigh sling to win the silvers (and a nugget off me).
1 – Terry Morgan (Summerhayes) – 216lb 9oz
2 – Sam Williams (Summerhayes) – 186lb 12oz
Silvers
1 – Jess Jordon (Summerhayes) – 25lb 8oz
2 – Nick Payne (Summerhayes) – 13lb 14oz
I'd been really looking forward to three matches on two of my favourite venues but the long weekend ended up being a bit of an anti-climax with me really struggling every day. On the plus side I've had three lovely breakfasts and lots of laughs which is a big part of what it's all about for me. Nick won the £3 side bets and along with the £10 breakfast money, the Nugget-O-Meter jumped up to £197.
There's still a great offer running if you fancy treating yourself to some new fishing gear, use the exclusive discount code AgainstMenandFish10 to get 10% off when you shop online at Somerset Angling
I still have copies of my book available from eBay here or Amazon here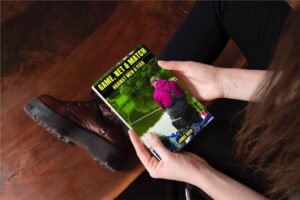 And if you could spare five minutes to leave a nice review on Amazon, it would be very much appreciated.
Next up – River Parrett
Coming soon – Lots more match reports
Check Out – My last match (below)