As The Memorial Shield heads towards it's climax, just two points separate Nick P and Russ and today would decide whether Russ would retain the title or if there would be a new name on the trophy this year? My challenge fizzled out in the penultimate round (much like last year) as both my drawing hand and lucky dinosaur seem to have suffered a major malfunction.
After really struggling in the last two matches at Parrett Works on peg 23 (2lb) and 13 (1lb 15oz), I was desperately hoping for a change of scenery today. When it comes to drawing, there are basically two strategies, you either go in the bucket first when all the pegs are in there, good and bad or you risk waiting until the pegs you don't want have gone but then there's always the danger the good 'uns go early as well.
I decided on the latter approach as I just couldn't face sitting on either of those pegs again, in an ideal world, the draw gods would take pity on me and I'd be able to walk the hallowed ground to the bottom of the second field and plonk my box down in 28, 29, 31 or 32. Failing that, pegs 9 or 16 would do me.
The draw got underway and as people were delving into the bucket, I was keeping an eye on who was writing their names next to which pegs. Nick Veale and Chris Haines both went in early and got two crackers in the shape of 9 and 32 respectively. Rather worryingly the weigh sheet for the top field (pegs 5 to 17) didn't have many names on it yet! Finally 23 went (Cliffy was the unlucky angler) and when Norts pulled 31 (another great peg), I felt I had to go for it. I grabbed one but didn't look straight away and another glance at the section boards revealed that none of the pegs on my wish list were left.
Slowly opening my fingers I saw I was on poxy 13 again (definitely an unlucky number) and knew my bad run was set to continue. In the battle for the Memorial Shield, Russ had drawn 17 and Nick was on 25, both fairly evenly matched pegs that had done 3lb+ in the last match although on past results, 25 probably just edged it. It was going down to the wire but who would be crowned champion after five hours?
My peg hadn't changed much since the last time I was on it and I set up the same three rigs, a 1 gram bodied rig for down the middle, a 0.5 gram DH16 for fishing across with 0.14mm to a 16 B611 and another identical float but with 0.10mm to a size 20 Guru Match Special, the usual maggots, casters and hemp were on the side tray.
A couple of fish topped as I was getting ready and although I wasn't confident at all, a bonus chub or a couple of eels can make a big difference in these matches and as I've said before, catch 3lb and you'll be there or thereabouts. I was ready in good time so walked down to see Steve P in 14 (and drink some of his coffee).
On the whistle, I potted in some hemp with a few casters down the middle and started with single red maggot on the hook. First put in (I hesitate to say run through as there was hardly any flow) resulted in a minnow, a couple of gudgeon followed but it was already painfully slow and minnows were a real nuisance with double maggot and even caster not really deterring them.
In amongst the minnows and odd gudgeon I did manage a little roach and a slightly better dace but as the first hour came to a close, bites were dwindling. A first look across with caster and the minnows were being a nightmare, double caster was a bit better and I had two roach and two dace with a couple worthy of getting my landing net wet.
Russ appeared and said he was really struggling with a handful of gudgeon and a lone dace, he reported that he'd spoken to Norts who was catching a few on 31. He headed back and was replaced not long after by Parker 'The Pole' who'd only had a few minnows and said Derek on 16 was also struggling so our section was fishing hard again.
Back down the middle, I had a couple more gudgeon but with half the match gone, I probably only had a pound or so and already I was thinking about trying to catch a couple of eels so cupped in a pot of maggots and casters and went back across to let it settle. A positive bite resulted in a little bit of black hydro emerging from the pole tip before I safely netted a 4oz chublet. No more bites from the far side so the two remaining hours were spent (unsuccessfully) trying to catch an eel.
I wasn't too upset to hear the all out and knew my final tally of 21 fish (3 roach, 3 dace, a chublet and 14 gudgeon) plus a few minnows wouldn't be winning any prizes today. Russ had the scales so I walked up with him to watch the weigh in, Bob on peg 5 had done well catching 3lb 4oz of roach, dace and chub, Danny B on 7 weighed 12oz and then Nick V on 9 pulled out his net and he had a 3lb carp plus chub, an eel, roach and dace for 5lb 15oz.
I was next and my fish went a lowly 1lb 8oz, Steve P didn't weigh, Derek had 1lb 3oz and then Russ had found a couple of eels to weigh 2lb 1oz. The other section began arriving back and Dave Hilton had the top weight from 29 with 9lb 2oz of chub and quality roach, Chris Haines was next best with 3lb from 32 which included a chub caught right at the end and Norts had 2lb 5oz on 31. Thanks to Nick Payne for the photos*
Nick weighed 1lb 8oz so Russ had beaten him on the day but crucially there were no other weights between them so Nick had won the Memorial Shield by a point – well done mate. A really close finish and it's always fine margins. Cliffy on 23 had 1lb 4oz, Wayne C on 27 weighed 11oz and Dave P had 7oz.
1 – Dave Hilton (Stoke) – 9lb 2oz
2 – Nick Veale (Haines Angling) – 5lb 15oz
3 – Bob Newbury (Stoke) – 3lb 4oz
4 – Chris Haines (Haines Angling) – 3lb
Sections
A – Russ Hilton (Stoke) – 2lb 1oz
B – Chris Norton (Stoke) – 2lb 5oz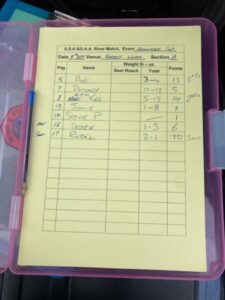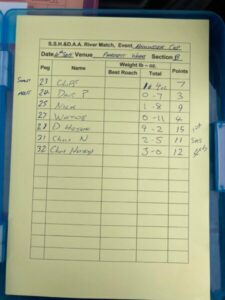 Norts won the £4 side bets which he kindly added to the Nugget-O-Meter and the total now stands at a brilliant £201 with the best part of three months to go. Cliffy also said this morning that the knock-out skittles competition he organised raised over £700 which is just amazing and it's looking like the club will hit the £2000 mark again for the Yeovil Oncology Unit, brilliant effort by everyone involved.
For me personally, it's been a tough series on the Parrett, I got off to a brilliant start, drawing 16 and winning the Evening Cup with 12lb of chub but it was all downhill after that, apart from 25 which is a half decent peg, I drew 13 (twice) and peg 7 which haven't been great this season. I think I've won the Aggregate Trophy though so not all bad. Such is the allure of the Parrett for me that I'm already looking forward to next season and another crack at trying to win the Memorial Shield.
There's still a great offer running if you fancy treating yourself to some new fishing gear, use the exclusive discount code AgainstMenandFish10 to get 10% off when you shop online at Somerset Angling
I still have copies of my book available from eBay here or Amazon here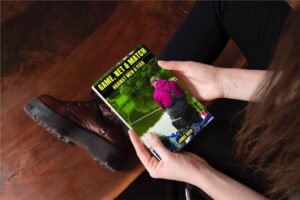 And if you could spare five minutes to leave a nice review on Amazon, it would be very much appreciated.
Next up – Coombe Farm
Coming soon – Lots more match reports
Check Out – My last match (below)