With the match on the Isle called off, we booked into the open at Summerhayes. 21 anglers were fishing this one so a decent size match. While we waited for the draw, Parker 'The Pole' modelled his posh new set of waterproofs. As always, Pete pulled out the golden ball first and this week it was number 30, a good area.
I was fairly near the top of the list and got peg 26, although it wouldn't have been my first choice, I was fairly pleased with my draw. As for the rest of 'The Breakfast Club', Rob C was on 28, Nick P got 12, Steve P on 19 and Terry 'The Toast' got drawn 39.
I set up two 0.3 gram Guru AR's, one for the top two to my right and 5 metres and the other for 10 metres and across about a metre off the island. On the side tray I had lots of red maggots, micros, 2mm and 4mm expanders plus some Bait-Tech Special G F1 and Dark groundbait. On the whistle I fed loose groundbait and some maggots on three lines, micros at 10 metres angled to the left and flicked some maggots over.
I started on the top two as it's normally worth a couple of early fish but after ten minutes I'd only had one indication from a small fish which dropped off! Moving to the 10 metre groundbait line resulted in a couple of small skimbobs but it was already looking like being quite hard going. Steve P was getting the odd roach and Steve Collins on 17 had landed a decent skimmer but nobody was setting the world alight.
Over the next couple of hours, I was getting odd little skimmers and some roach swapping between the 10 metre groundbait and micros lines. 2mm expander resulted in a 4oz skimmer and I also bumped one but with nearly half the match gone, I only had 2lb or so and the lack of decent skimmers was a tad worrying. I hadn't even hooked a carp yet but that I wasn't complaining about!
Craig next door suffered some pole trouble when he hooked the island and his top five came off! Luckily he managed to retrieve it without having to launch the boat or strip down to his budgie smugglers. With two hours to go I've had a quick look on the five metre line but no bites so I've gone across for the first time. It was a bite a chuck from small roach and the odd little skimmer but I still couldn't catch any bigger fish and also hooked (and lost) my first carp.
I was going nowhere fast so in a bid to try and make something happen, I fed some micros on a new line at 13 metres angled to the right and went over it with a 2mm expander, a small skimmer first chuck was encouraging but then I was getting bites and couldn't hit them. A foulhooked carp didn't help so that was enough of that. Back on the maggot line I upped the feed and finally hooked a decent skimmer only for it to come off!
Not long after, another decent fish was on, came straight to the top and the hook pulled out of that one as well! The next one stayed on but was actually a nice 8oz roach which was very welcome and things got even better when I landed my first decent skimmer. There were obviously a few fish feeding now (upping the feed or time of day?) as I hooked another that leapt out the water but as I started shipping back it came off! Time was running out but I still managed another, the best fish of the day at around 1.5lb and didn't want the match to end.
At the all out my clicker was reading 21 fish (2 decent skimmers, a good roach plus skimbobs) and I also probably had the same number of small roach which I hadn't counted. A tough day, but on the plus side, my carp net had nothing in it! Jacko came down as I was packing up and was admitting to double figures on the waggler so would be there or thereabouts.
When I caught up with the scales, McKenzie on 37 had weighed 11lb 14oz and Terry 'The Toast' was the early leader with 44lb 4oz from peg 39. Ian W on peg 2 had 36lb 5oz of mainly carp, Kev Osbourne weighed 24lb on peg 4 and then Adie had 39lb 3oz on peg 6.
Roy Hughes on 8 was next and his 6lb 4oz was the top weight of silvers so far, Jim Jenner had 42lb 9oz to go into second place, Jeff Sparkes weighed 3lb 12oz of silvers on peg 11 and Nick P had 34lb 6oz on 12. Zooner was on 14 and continued his great run of form with 10lb 9oz of silvers and took another nugget off me.
Steve Collins on 17 weighed 30lb 4oz and Parker 'The Pole' had 5lb 8oz of silvers. Roger on 21 chucked back, Craig had 27lb 8oz of carp and then my silvers went 8lb 6oz. Rob C didn't weigh and then it was Rich Studley on the golden peg, his carp and a few silvers totalled 53lb 12oz to put him in line for a bumper payday with just a few pegs left to weigh. Jacko was next on 31 and his 11lb 14oz of silvers was the best so far.
Bill 'The Paste' on 33 weighed 36lb, Glynn next door had 5lb 4oz of silvers and last but not least was Rob Wylde who weighed 34lb 4oz.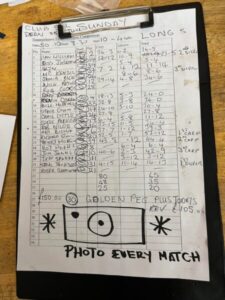 1 – Rich Studley (Summerhayes) – 53lb 12oz
2 – Terry Morgan (Ilminster) – 44lb 4oz
3 – Jim Jenner (Summerhayes) – 42lb 9oz
Silvers
1 – Steve Jackson (Garbolino) – 11lb 14oz
2 – Jess Jordon (Summerhayes) – 10lb 9oz
3 – Jamie Rich (Against Men and Fish) – 8lb 6oz
So Rich won and took home a nice bonus, I sneaked third and picked up £20 and once again it had been a really close match. Me, Rob, Nick and Steve bunged a pound in the pot which I added to the Nugget-O-Meter and the total is now £329.
There's still a great offer running if you fancy treating yourself to some new fishing gear, use the exclusive discount code AgainstMenandFish10 to get 10% off when you shop online at Somerset Angling
I still have copies of my book available from eBay here or Amazon here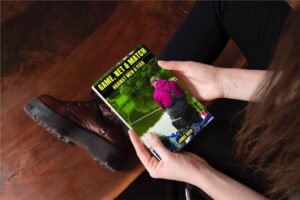 And if you could spare five minutes to leave a nice review on Amazon, it would be very much appreciated.
Next up – Trinity Waters
Coming soon – Lots more match reports
Check Out – My last match