The next Stoke match was at Trinity Waters and it was also the final match to decide the Club Championship and Rosebowl competitions. On paper I was lying in second place in both but realistically with dropping the worst results, I was way behind and the only chance I had of winning either was if the leaders blanked, fell in or both!
We were well looked after at the bowling club (thanks Charlotte) before heading to Bridgwater, with 14 anglers fishing, there were 7 on each bank. The Grand Wiz announced the draw and I was hoping to avoid the end pegs as the middle of the pond is normally the best area for silvers. I delved in and pulled out 16, end peg on the far bank (and scales assist) which about sums up my drawing arm at the moment (I've now written to Santa and asked for a new lucky dinosaur for Xmas!).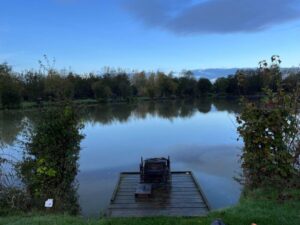 There were lots of small fish (and the inevitable carp) topping when I reached my peg which was hopefully a good sign after a chilly start to the day. I set up a 0.5 gram Drennan Pencil for 13 metres and a Guru 0.45 gram F1 Carbon for top two plus two. On the side tray I had maggots, casters, worm, expanders and Bait-Tech Special G F1 and Dark groundbait.
The Grand Wiz got us underway and I cupped in four balls of groundbait containing chopped worm, caster and a few maggots on the long line before starting short. I was feeding casters with maggot on the hook and it didn't take long to catch a tiny roach, a couple more followed so I tried double maggot but that didn't improve the stamp of fish. Caster was next and first put in the float buried and I struck into solid resistance as a carp moved off. I had it on a little while before the rig came back with a scale on the hook.
Even at this early stage it was looking like being quite hard going, Terry 'The Toast' was on my right and fishing for carp but hadn't caught yet and opposite Chris Haines and Mike Goad were both fishing for silvers and only had a few small fish. I began getting the odd chunky roach and then had a nice 6-8oz pommie/hybrid thingy.
With an hour on the clock and around 1.5lb in the net it was time to have my first look long, double maggot didn't even reach the bottom as a little roach nailed it on the drop so I put on a maggot and a dendra with the tail nipped off and the rig settled and went straight under and a nice 12oz skimmer was the result. Next chuck I bumped one and then had my second skimbob, at this stage it felt like there were a few there.
Then I've had a bite but only connected at mid depth so I'm pretty sure I'd foulhooked another carp, this one I had on for ages, it was behaving itself and I was just beginning to think I had a chance when it did me under the pallet! Just to add to the fun we started getting some heavy rain and the temperature definitely dropped a couple of degrees.
Terry landed his first carp and then Roy 'The Bomb' on the next peg had one but nobody was really bagging. Over the next hour or so I added two more skimmers but I was waiting ages for bites so cupped in little ball of groundbait and had another look short where I'd been feeding casters. I started catching some nice roach with a few requiring the net and one clonker around 8oz.
Hainsey was now catching some decent skimmers and I could see Nick P and Parker 'The Pole' using their landing nets down further on the opposite bank. Back on the long line, I couldn't get a bite on worm but there were obviously fish there as they were blowing. I tried double caster but no indications, treble dead red resulted in a skimmer quite quickly and then I bumped one which didn't help and also foulhooked (and lost) carp number three.
A positive bite saw a decent skimmer fly out the water on the strike but thankfully stayed on. It went quiet again so I fed another little nugget and came short again but that had died a death now. Andy Saunders and Anna turned up for a walk round and watched Mike land a big eel around 3lb, they then brought me luck when they were stood behind me as I hooked and landed my best fish, a 3lb plus skimmer.
I did manage one more with just five minutes left and on the whistle, I'd ended up with 9 skimmers (including that pommie) and some roach, my carp net remained empty! Terry had the scales so we started with me and my silvers went 13lb 11oz, Terry had three carp for 19lb 1oz, Roy had two lumps and a couple of skimmers for 24lb 4oz and then the Grand Wiz had seven carp and a skimmer for 51lb 8oz which would see him win the Club Championship in style – well done GW.
Derek G had 7lb 8oz of silvers, Rob Wylde weighed 6lb 6oz which included a lovely tench and last to weigh on our bank was Nick Veale who had two big carp and a few roach for 22lb 6oz. In the other section, Chris H weighed 12lb 2oz of silvers, Mike G had a couple of carp plus silvers for 16lb 11oz, Rob C weighed 3lb of silvers and Parker 'The Pole' had a lumpy carp of 13lb 12oz plus 8lb of silvers.
Andy Winter weighed 23lb 13oz on peg 28 and then Nick P had some decent skimmers and a nice crucian for 14lb 9oz to win the silvers and last to weigh was Dave Chidzoy who did enough for second place with 27lb 5oz.
1 – Chris White (Stoke) – 51lb 8oz
2 – Dave Chidzoy (Stoke) – 27lb 5oz
3 – Roy Worth (Stoke) – 24lb 4oz
Sections
A – Nick Veale (Stoke) – 22lb 6oz
B – Andy Winter (Stoke) – 23lb 13oz
Silvers
Nick Payne (Stoke) – 14lb 9oz
Another really close match with only 2lb separating several places overall and the same margin between the top three silvers weights. The Grand Wiz was a popular winner and he also donated the £4 side bets to the Nugget-O-Meter which is now at £333 and with several matches to go in November, I'm hoping we hit £350 which would be fantastic.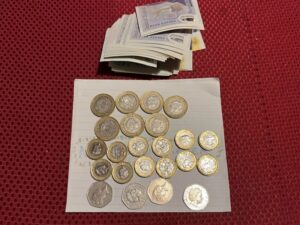 There's still a great offer running if you fancy treating yourself to some new fishing gear, use the exclusive discount code AgainstMenandFish10 to get 10% off when you shop online at Somerset Angling
I still have copies of my book available from eBay here or Amazon here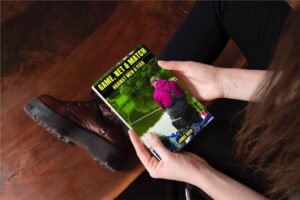 And if you could spare five minutes to leave a nice review on Amazon, it would be very much appreciated.
Next up – Summerhayes
Coming soon – Lots more match reports
Check Out – My last match