One of my favourite matches of the year and one I managed to win for the first time last year so I would be trying my hardest to defend my title. The final IAA Summer League match at Coombe was also rescheduled for the same day which was a bit gutting as I was in with a good chance of a top three finish and would have been on the more prolific bottom lake.
It was really mild and with the water levels looking a lot healthier, the general consensus was that it would fish well. We were on Longs with 21 anglers fishing and it was lovely to see John Barker who I haven't seen for a while. Jeff announced the draw and said along with the overall winner and four section prizes, the lovely Steve Chant at Somerset Rig Company had donated a box of hooklengths for the biggest perch of the day.
I really wanted to be on the bottom bank but when my name was called out, peg 24 was my home for the day which can be a decent area for silvers. For company I had Paul Purchase on 26 and Mark Leahy on 21 to my right so I had some space which is never usually a bad thing. I set up three 0.3 gram Guru AR's, for the top two to my right and 5 metres another for 11.5 and 13 metres plus one for fishing 11.5 metres angled to the right where it was a bit deeper.
Today's side tray had lots of red maggots, micros, 2mm and 4mm expanders plus some Bait-Tech Special G F1 and Dark groundbait. On the whistle I fed loose groundbait and some maggots on three lines, micros on the right hand line and flicked some maggots across. I began on the top two and had a small roach first chuck and then a 8oz skimmer got me off to a great start.
There wasn't much being caught early on so when I added another little roach, I was happy to be putting something in the net. My next bite resulted in a carp and while I was playing it, Mark had a decent skimmer fishing across so when I'd finished faffing about, I moved out to my 11.5 metre line. A couple more roach kept my catch rate ticking over and then I had two skimmers in fairly quick succession and as far as I could tell, I was doing well.
Mark replied with two skimmers which looked a bigger stamp than mine so I tried the micros line but no bites and it was the same story at 5 metres so with half the match gone, I went across to the island at 13 metres. A little roach followed by my fourth skimmer was encouraging but I couldn't seem to get more than a couple of bites from a line before having to do something else. I stuck another section on and went tight to the far bank which resulted in another skimmer but I also hooked two carp.
By all accounts, it was fishing really hard and with around ninety minutes remaining, a few people had packed up and gone. I've had a look on all my lines but only added a couple more small fish so went back to 13 metres and caught my sixth skimmer nearly straight away, resting swims seemed to result in the odd bite so I've come back to 11.5 metres but more carp were being hooked now and I was landing a fair few.
With half an hour left I had six skimmers and with Mark on three, I thought I was ahead and in with a chance of a section win when I saw him strike and straight away I knew it wasn't a carp as he shipped back gently before netting a big 2lb+ skimmer which probably edged him ahead. I've gone back to 13 and 14.5 metres but all I could catch was carp, several times I've hooked fish that I was sure were skimmers only for them to wake up when I got down to the top two.
Mark added another skimbob and I was hoping he'd win it overall and I'd sneak a default section. On the whistle I was playing yet another carp and I'd hooked eleven, landing seven of them! When I caught up with the scales, Roy Hughes was leading with 6lb 4oz from peg 12, Adie weighed 4lb 3oz on 14 and then Tom R on 17 had 4lb 6oz. Dave Bull on 18 and Nick P on 19 didn't weigh and then Mark had 7lb 6oz.
I was next and my fish went 5lb 1oz, Paul chucked back and Rob B on 27 had already gone, Jenny weighed 1lb 9oz and Pete had 3lb 3oz on peg 30. Steve C had 4lb 6oz, Gabe weighed 1lb 14oz, Zooner on 34 had 5lb 6oz (which included the biggest perch of 7oz), Jacko weighed 3lb 8oz, Roger C had 14oz and then the very last peg, Alex Kerr on 39 won it with 7lb 8oz. I was gutted thinking I'd missed out on the section but Jeff cheered me up when he said me and Mark were in different sections.
1 – Alex Kerr (Summerhayes) – 7lb 8oz
Sections
A – Roy Hughes (Summerhayes) – 6lb 4oz
B – Mark Leahy (Summerhayes) – 7lb 6oz
C – Jamie Rich (Against Men and Fish) – 5lb 1oz
D – Jess Jordan (Summerhayes) – 5lb 6oz
Heaviest perch
Jess Jordan – 7oz
So a very hard match but it was also close with ten weights between 4lb 3oz and 7lb 8oz and there were a few decent skimmers hooked and lost which could have made all the difference. I picked up a very nice £50 for the section win. A big thanks to Jeff for organising, Pete and Sally for hosting and Steve Chant for his generous sponsorship, another great match to remember Charlie and I'm looking forward to next year already.
There's still a great offer running if you fancy treating yourself to some new fishing gear, use the exclusive discount code AgainstMenandFish10 to get 10% off when you shop online at Somerset Angling
I still have copies of my book available from eBay here or Amazon here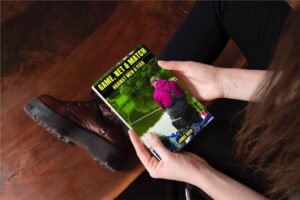 And if you could spare five minutes to leave a nice review on Amazon, it would be very much appreciated.
Next up – Summerhayes
Coming soon – Lots more match reports
Check Out – My last match