It was back to Summerhayes on Sunday with the match on Sellicks this time. We had a cracking breakfast at the bowling club again (thanks Charlotte) before heading to Bridgwater. Twelve anglers fishing today which is a good number for Sellicks. Nick gave Pete a hand to do the draw and first up was the golden peg which was number 9. I really like the pegs on the far side for silvers (17-22) but Nick pulled out number 4 for me, I wasn't too upset though as it can be really good.
For company I had Adie Bishop on peg 6 and Pete Curnow the other side on peg 2, Pete is a member of Watchet Angling Club and writes the Rod and Pole blog all about their exploits. Jenny was on the golden peg with Nick on 11, Zooner had 14, Glynn was on 21 and Roy had drawn 23 where Jess won the silvers with 25lb the last time I fished Sellicks.
I set up a 0.4 gram Malman Pencil to fish two lines at 10 metres and a couple of 0.3 gram Guru AR's for top two to my right and across at 13 and 14.5 metres. On the side tray I had two pints of red maggots, micros plus some Bait-Tech Special G F1 and The Juice groundbait.
Roy had the responsibility of the whistle and got us underway. I fed the top two line with a little groundbait and then the same at 10 metres straight out while the line angled to the left received some micros and finally I catapulted some maggies over. Starting on the top two line, no indications after ten minutes saw me move to the 10 metre groundbait line. I missed a bite first put in and then after missing the next couple as well, I finally got off the mark with an 8oz skimbob.
Apart from a foulhooked carp which fell off, that was it for the first hour, the second sixty minutes was better with three more skimmers although I pulled out of two as well. Carp were being a bit of a pain and I was landing a few as were Pete and Adie (although he was having a torrid time with some overhanging vegetation on the far bank).
I had a look on the micros line but never had a bite there so with around two and a half hours gone, I went across at 13 metres. To be honest I didn't really get the response I'd hoped for, I had a small roach and a rudd but was beginning to think another struggle was on the cards. When my next fish was a foulhooked carp which I landed after a lengthy tussle, I decided to come back half a section.
The float sailed away and a good fish was on, this didn't feel like a carp and a lovely big 2lb+ skimmer came to the top. I was getting regular bites and added a couple of nice 8oz roach before landing another decent skimmer, this one about 1.5lb. From struggling, I'd added four fish for 5lb and was probably up to 7lb and there were still two hours to go.
I couldn't see how Roy was doing on 23 but it looked like Glynn was catching carp on 21. Another skimmer kept my catch rate ticking over but I was hooking quite a few carp now as well. With all the carp commotion, bites began to slow so I dropped back to 10 metres but couldn't get a bite there. There was around an hour left so I've added the 14.5 metre section and gone right across to the island.
I was expecting it just to be carp central but my first few fish were small roach and then I've had a lovely quality roach and started to catch really well. Mainly roach with most requiring the use of the net along with a 6oz hybrid and also two little pastie carp that flattered to deceive before revealing their true identities! I know I say it a lot, but I was really enjoying it and didn't want the match to end, catching quality silvers on nice light elastic (number 6 Preston Slip) is probably my favourite type of fishing.
My last fish was a carp hooked in the tail which I landed after the whistle, my final tally was ten carp (including the two little ones), eight skimmers, seven big roach plus a fair few smaller ones and a rudd that I hadn't clicked.
The weigh in started with Pete on peg 2, he had 18lb 1oz, then my carp went 24lb 4oz and the silvers added 12lb 14oz which gave me a total of 37lb 2oz. Adie had 36lb 6oz and then Jenny on 9 did well catching 25lb 13oz, Nick weighed 33lb 9oz and McKenzie on 13 had 15lb 10oz.
Zooner was on 14 and had caught some nice skimmers for 10lb 7oz and I claimed my first nugget for a few matches. So with the half the field weighed in, I was leading the silvers and overall! Jim Jenner on 15 soon put a stop to that when his two nets of carp went 68lb 3oz.
Kev didn't weigh on 17, Bill 'The Paste' had 38lb 5oz on 19 and then we got to Glynn who had turned to the darkside when he weighed 7lb 4oz of silvers and then added 37lb 11oz of carp to into second place overall with 44lb 15oz. Last but not least was Roy on 23 who was only admitting to 3lb and for once he was close to his estimate with 3lb 8oz.
1 – Jim Jenner (Summerhayes) – 68lb 3oz
2 – Glynn Wickham (Summerhayes) – 44lb 15oz
Silvers
1 – Jamie Rich (Against Men and Fish) – 12lb 14oz
2 – Jess Jordan (Summerhayes) – 10lb 7oz
So I managed my first silvers win for a little while and had a nice pick up of £45, also with mine and Nick's side bets from yesterday plus today's and the one from Zooner, the Nugget-O-Meter was a fiver better off and now stands at £338.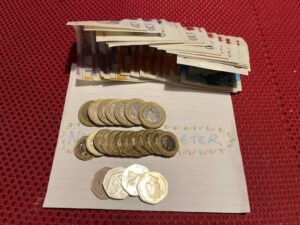 There's still a great offer running if you fancy treating yourself to some new fishing gear, use the exclusive discount code AgainstMenandFish10 to get 10% off when you shop online at Somerset Angling
I still have copies of my book available from eBay here or Amazon here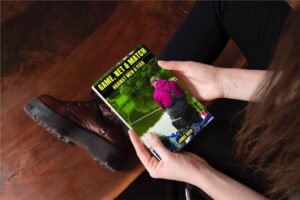 And if you could spare five minutes to leave a nice review on Amazon, it would be very much appreciated.
Next up – Hebditch's Pond
Coming soon – Lots more match reports
Check Out – My last match