I've been dying to get back to Revels so booked a few Tuesday's off work leading up to Xmas. Steve P fancied it as well so we met at the Airfield Tavern in Yeovil for breakfast. Normally very good, it was disappointing on our last visit but I asked for my bacon well done this time around and it was really nice (although they didn't have any beans!).
There was a definite chill in the air after an overnight frost and it was a foggy drive to the fishery. As we pulled into the car park, it was already really busy as there were 20 booked in for this one, a fantastic turnout for a Tuesday! We assembled by the shop for the draw and we were on Main and Trendels lakes today. I've never fished the latter but it apparently holds lots of small carp and although it often frames overall, for silvers ideally I needed to be on Main.
As the draw got underway, lots of the Trendels numbers were being called out but as it started to get near my name in the middle of the list, there were several carpy pegs left including 16 which I really didn't want. Given my recent poor form at the draw bag, I was convinced that peg had my name on it or one of the pegs left on Trendels. My name was called and I was almost resigned to it but then Jason held up a ball with the number 20 on it! Probably the best and most consistent silvers peg on the complex – that'll do.
Steve P was on peg 6 on Main which can be a decent silvers peg and John Barker was on 11, the end peg on the arm which is a good carp peg but does throw up silvers weights occasionally. I set up a 0.3 gram Guru AR to fish 11.5 and 13 metres plus a little 0.25 gram F1 Carbon Slim with spread shot to fish down the edge on a top two where I'd caught loads of fish last time I drew it.  On the side tray I had lots of maggots, some disco pinkies plus Bait-Tech Special G F1 and Dark.
Bob Chrisp on 16 wanted a pound on overall weight and Steve P agreed to a nugget on silvers. On the whistle I potted in some loose groundbait with a few pinkies at 11.5 metres before starting on the top two down the edge with single red maggot on the hook. To be honest I thought it might be hard after the frost but a bite after a minute or so resulted in a gudgeon, then I had a little perch followed by a four ouncer that pulled a fair bit of yellow hydro out.
It was a bite a chuck, mainly from gudgeon and small perch plus two roach, one around 4oz and a clonker of 8-10oz. After half an hour I had 28 fish for around 2lb and I'd also hooked and landed a carp of 3lb or so. With sixty minutes gone I was up to 50 fish and really enjoying myself. Bites started to slow in the second hour but I was still catching the odd chunky perch.
Two hours gone and I was waiting longer for bites so had my first look at 11.5 metres and was expecting the float to go straight under but that didn't happen. Eventually I had a bite but a slightly over enthusiastic strike saw a small perch fly out the water and fall off! I was feeding a few maggots via a toss pot and the next bite resulted in a roach followed by a 12oz skimmer. It wasn't fast and furious but I was getting little bursts of fish.
After every couple of fish, I toss potted in a small smidge of loose groundbait and although I wasn't catching loads of fish, they were mainly 3-4oz skimmers, nice little weight builders. A 12oz perch was a nice bonus but I also began hooking the odd carp, including one little specimen that wouldn't register an ounce. When bites slowed I had a look past the feed but it hasn't really worked today with just the odd fish, I also had another look short but only had one more roach there.
Even though I wasn't catching much past the feed, it seemed to help resting the 11.5 metre line as when I dropped back on it, I'd get a couple of fish straight away. With the light starting to fade, carp became more of a nuisance and I hooked three in as many chucks, landing the last one after the whistle. I finished up with 91 fish (which at an average of 2oz apiece would give me a little over 10lb) plus I'd landed 7 carp (and the diddy one).
The weigh in began on Trendels so I packed up and loaded the car. While we were waiting, Steve P said he had 4lb of silvers and Bob was admitting to around 25lb so our side bet would be close. When the scales got to our lake, we wandered round to watch the last few pegs weigh in. A quick peak at the board revealed Alan W was leading with 57lb 4oz from peg 25 on Trendels and Adrian Hayes was the top silvers so far with 6lb 12oz (Trendels 22) followed closely by John Barker with 6lb 4oz on 11 and Steve P who had 5lb 12oz.
Dean Green on 14 weighed 19lb 10oz, Bob on 16 had 23lb 8oz, Steve Crowford on 18 weighed 3lb 6oz of silvers and then my carp went 19lb 2oz before the silvers added 12lb 5oz.
1 – Alan Winsper (Alan's Angling) – 57lb 4oz
2 – Chris Burgess (Revels) – 52lb 3oz
2 – Terry Leney (Revels) – 38lb 14oz
Silvers
1 – Jamie Rich (Against Men and Fish) – 12lb 5oz
2 – Adrian Hayes (Revels) – 6lb 12oz
3 – John Barker (Revels) – 6lb 4oz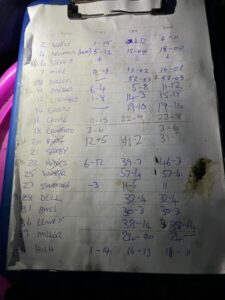 Another really nice day with loads of bites and I'm looking forward to my next visit already, along with a few Tuesdays, there's several matches over Xmas I'm hoping to fish. A nice pick up of £50 and with pounds off Steve and Bob, the Nugget-O-Meter benefitted by £3.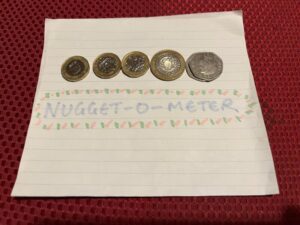 I also noticed the number of hits flew past 7 million a few days ago – incredible (if only I got 10p for each hit!). Thanks so much for all the support, it means a lot.

There's still a great offer running if you fancy treating yourself to some new fishing gear, use the exclusive discount code AgainstMenandFish10 to get 10% off when you shop online at Somerset Angling
I still have copies of my book available from eBay here or Amazon here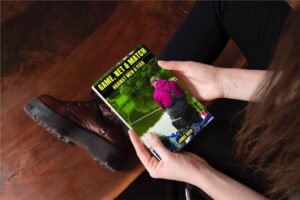 And if you could spare five minutes to leave a nice review on Amazon, it would be very much appreciated.
Next up – Acorn Fishery
Coming soon – Lots more match reports
Check Out – My last match (below)