Before I get on to this weeks match, we had Ruthie's Cup presentation last night and as promised I've updated the results and added some photos to the post from the last match which can be found here – Ruthie's Cup
We had heavy rain and strong winds all day on Saturday but thankfully the forecast was much better for today. After another of Charlotte's lovely breakfasts we headed to Bridgwater, the car park was already busy with matches on both lakes. I was a bit gutted to find out we were back on Longs as I was hoping we'd be on Sellicks this week.
Pete announced the draw and I was top of the list so would be the first peg out the bucket and was hoping I might finally get to see what the 30's were like or failing that, perhaps number 12 or 19. After rummaging in his bucket, Pete's hand emerged with a ball that had the number 3 inscribed on it, poxy 'Cyanide Straight' was my home for the day, much to the delight of the others!
I had loads of room with three empty pegs either side but still thought I'd struggle to compete with the better silvers areas. The pond was flat calm which wouldn't do us any favours today either. I set up two 0.3 gram Guru AR's to cover the various lines. On the side tray I had lots of red maggots plus some Bait-Tech Special G F1 and Dark groundbait.
On the whistle I fed all my lines before starting on the top two where there was a nice depth, no bites so I moved out to 11.5 metres. I had a two small roach before landing a 4oz skimbob while Glynn on 39 had a couple of better skimmers and was off to a great start. My bites slowed up so I moved to the right hand line at the same distance which I'd fed more positively with two pots of groundbait.
I had a good little spell catching three 4-6oz skimbobs but also pulled out of one. Parker 'The Pole' on peg 7 was struggling but Glynn was still getting the odd better fish. By swapping between the two 11.5 metre lines I continued putting the odd small skimmer and roach in the net but the lack of quality was a bit worrying. Glynn was catching some better fish across to the island and I was itching to go over where I'd been feeding maggots since the start.
With two and a half hours gone I had my first look at 13 metres and although I was getting bites and catching a few fish, I still wasn't having any of the bigger skimmers you need to build a decent weight. After a little burst of fish, bites tailed off so I added another section which resulted in a few more and then I hooked a decent one but as I shipped back it came off!
I did manage one nice skimmer and a net roach of 6-8oz but I'd only get a couple of bites before having to rest that line, I tried starting another line at 14.5 metres to the right but I've only had one bite there. With sixty minutes remaining, I hooked and landed my first carp of around 4lb, things didn't really improve in that last period and I only added a few more small fish. Then with five minutes left, I hooked carp number two which gave me the run around before I netted an eight pounder after the whistle.
The scales started with Glynn who'd done well weighing 10lb 3oz, then my two carp went 12lb 9oz and my silvers added 6lb 7oz. Parker 'The Pole' switched to fishing for carp halfway through the match and landed five plus some silvers for a total of 26lb. Alex Kerr on 10 was next and continued his rich vein of form with 14lb 1oz of silvers (including three nice perch) and 26lb 4oz of carp to go into the lead on both fronts.
Jim Jenner on 12 weighed 22lb of mainly carp and then on peg 14 Nick P had 21lb of carp and 9lb 4oz of silvers. Tom R on 17 weighed 7lb 9oz of skimmers and Jenny on 19 had 15lb 12oz (which included some big skimmers). Mark L on 21 chucked back, Geoff Young on 25 weighed 4lb 5oz of silvers and then Zooner on 28 had the same weight and let me have my nugget back from last week.
Toby Burrell on 30 had 20lb 14oz of carp along with 11lb of silvers which was second so far, Bill H didn't weigh on 32, Chris Whitham on 34 weighed 36lb 12oz which put him second overall and Jacko on 36 had 31lb 13oz.
1 – Alex Kerr (Summerhayes) – 40lb 5oz
2 – Chris Whitham (Torquay) – 36lb 12oz
Silvers
1 – Toby Burrell (Summerhayes) – 11lb
2 – Glynn Wickham (Summerhayes) – 10lb 3oz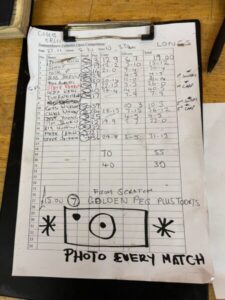 With Alex having the top weight and best silvers (not for the first time this year), Toby won the silvers by default with Glynn second. Another close match with just one fish separating several weights both overall and in the silvers.
Nick won our bet and kindly stuck the £2 in the pot and with the quid from Zooner, the world famous Nugget-O-Meter is back up and running.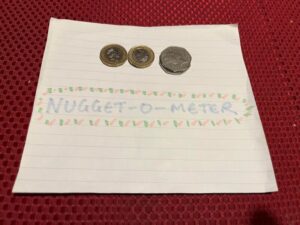 There's still a great offer running if you fancy treating yourself to some new fishing gear, use the exclusive discount code AgainstMenandFish10 to get 10% off when you shop online at Somerset Angling
Xmas is coming along with lots of parties so if you're looking for a Secret Santa present (maybe for somebody you don't like!), I still have copies of my book available from eBay here or Amazon here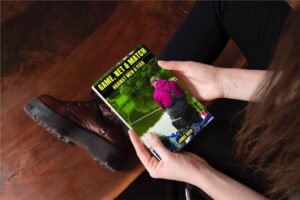 And if you could spare five minutes to leave a nice review on Amazon, it would be very much appreciated.
Next up – Revels
Coming soon – Lots more match reports
Check Out – My last match