This is another of my favourite matches that I've got a pretty good record in over the years but last year was a bit of a disappointment so I was hoping for better things today. We were planning to have a section on the river today but the weather forecast put paid to that so there was a section on the canal and one on the pond. My partner today was Justin Charles who was gutted when he found out it wasn't on the river and agreed to go down the canal and I would fish the pond. At the pub it was lovely to see some new faces, Matt Pang from work and his mate Simon were there along with Scott Jackson and Mick Greaves. Pete also presented me with £100 for winning the V.E.S. Precision league last week which was a lovely start to the day.
It was decided to do the draw at the respective venues so we could fit around any pleasure anglers and hopefully put pegs in that would afford the anglers some shelter.With Rob down the canal, pegging duties were left up to Graham Field. I was a little late getting to the pond as I had to make a fuel stop and was a little surprised when Fieldy announced he'd just put in every third peg starting at peg 4. I managed to pull out peg 7 which was on the far side and I would much rather have had a peg on the near side but still thought I'd do okay as I won off peg 6 a few weeks back.
It wasn't until I got round the far side and started taking my kit to the peg that I realised I had the wind straight in my face – great! Still it could have been worse, Bruce on peg 10 had forgotten his wellies and waterproofs! I mixed up some Bait Tech Pro Natural Dark (which is fast becoming my favourite groundbait), before setting up the rest of my kit. With time tight I just set up a 0.5 gram Drennan Roach float with 0.10mm bottom and size 18 B611 and plumbed up at 10 metres. Even at this early stage I could tell the gusty wind was going to be an absolute nightmare.
Looking across the pond I could see Simon in peg 16 and Pete in peg 19 with the wind off their backs and couldn't believe 17 and 18 weren't in, in fact we could probably have all gone on that bank. I just had chance for a coffee before Fieldy shouted the all in, I cupped in two balls of groundbait at 10 metres and even that took longer than usual with the wind trying to rip the pole from my hands. I baited up with a single red maggot and shipped out and hung on for dear life. I attempted to loose feed some casters and hemp but it was going all over the place. After a few minutes, the float slid away and I was off the mark with a tiny roach, I switched to double white maggot as this has sorted out some quality in previous matches but two more tiny roach obliged and caster was my next offering.
I was missing bites on caster and guessed it was small fish, Bruce had only caught one fish and Fieldy in peg 13 hadn't had a bite yet and this could be hard going. After an hour I had around ten small fish and was doing okay as far as I could see although I had seen Simon and Mick in peg 4 both net fish. The second hour was slightly better and I was getting the odd better fish on caster. The wind was horrendous and I had to drop the pole on the water at times to avoid a breakage. I was sure there would be a few carbon casualties by the end of the match. We were getting some fine misty rain which wasn't too bad although with the wind in my face I had to keep stopping to wipe my glasses.
Bruce had managed to find an old coat in his van and in a bid to stop his legs getting soaked he had put his legs through the armholes of the jacket and was surviving for now but he was praying the rain wouldn't get any worse. I was swearing like a man with tourettes at the wind, the rain and most of all, Fieldy for not putting us on the other side. I was still getting small roach with the odd better one and also managed to drop off my usual 3oz fish when I really should have used the net.
I wasn't really enjoying myself too much and this wasn't helped when I managed to hook the top of my hoodie and spent quite a while trying to unhook myself, Bruce found this highly amusing and asked if that was a 'Hat Trick', very funny. I still felt I was doing okay although everybody seemed to be getting odd fish but I didn't think anybody would be weighing in double figures today. When the wind dropped and I could actually keep the float still, I would get bites but I just couldn't get decent presentation. With two hours to go, the weather gods decided misty rain wasn't enough punishment and it started lashing it down.
I had hoped to catch some quality roach in the last period of the match but if anything my bites dried up and I only added a few more roach to finish up with 65 fish and I hoped I might have 6lb. Thankfully I don't think there had been any pole casualties and I was relieved to pack mine away unscathed. I took my soaked kit back to the car before walking up with Fieldy to start the weigh in at Mick, he was looking rather bedraggled but he'd had some nice rudd and a little tench and weighed 2lb 9oz. Then it was turn and my fish weighed a level 7lb which I was quite pleased with, things got better when a soaked Bruce weighed 5lb 5oz and I was still leading. As we walked to Fieldy's peg he kept saying he had nowhere near my weight so I was pretty sure he had beaten me as he can't lie straight in bed! When he pulled his net out it was close and Mick called the weight at 7lb 8oz and I was down to second in the section.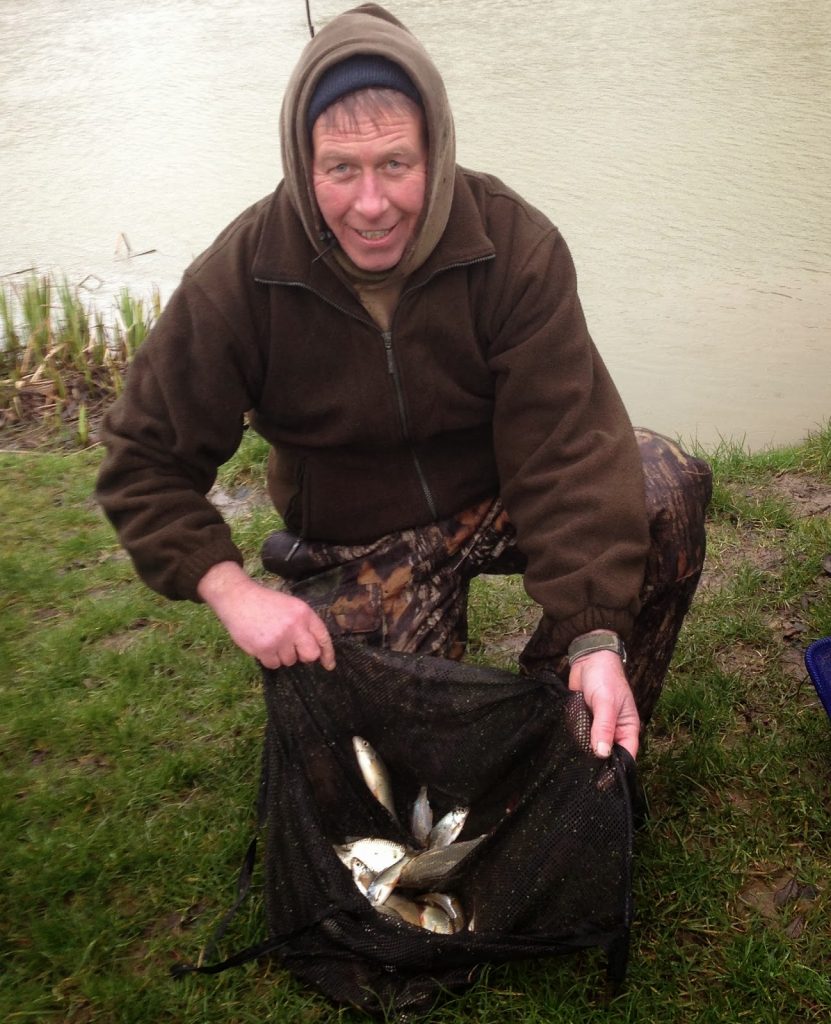 Mick Greaves caught one of the newly stocked tench and some lovely rudd
I took the rest of my kit back to the car and just as I'd finished and was taking off my very wet waterproofs, Fieldy came back from weighing the other side where Simon had 5lb 9oz and Pete had caught 3lb 1oz, so I was still second in the section and now just needed Justin to come back with good points. Back at the results there were only a few very wet anglers as those that hadn't done too well had shot off home to dry off and warm up. I was pleased to see Justin there and when he said he'd won his section with 8lb 9oz of roach and perch I was even happier. Pete worked out the results and announced us as winners with three points and we picked up £45 each, Rob and Fieldy came second with four points.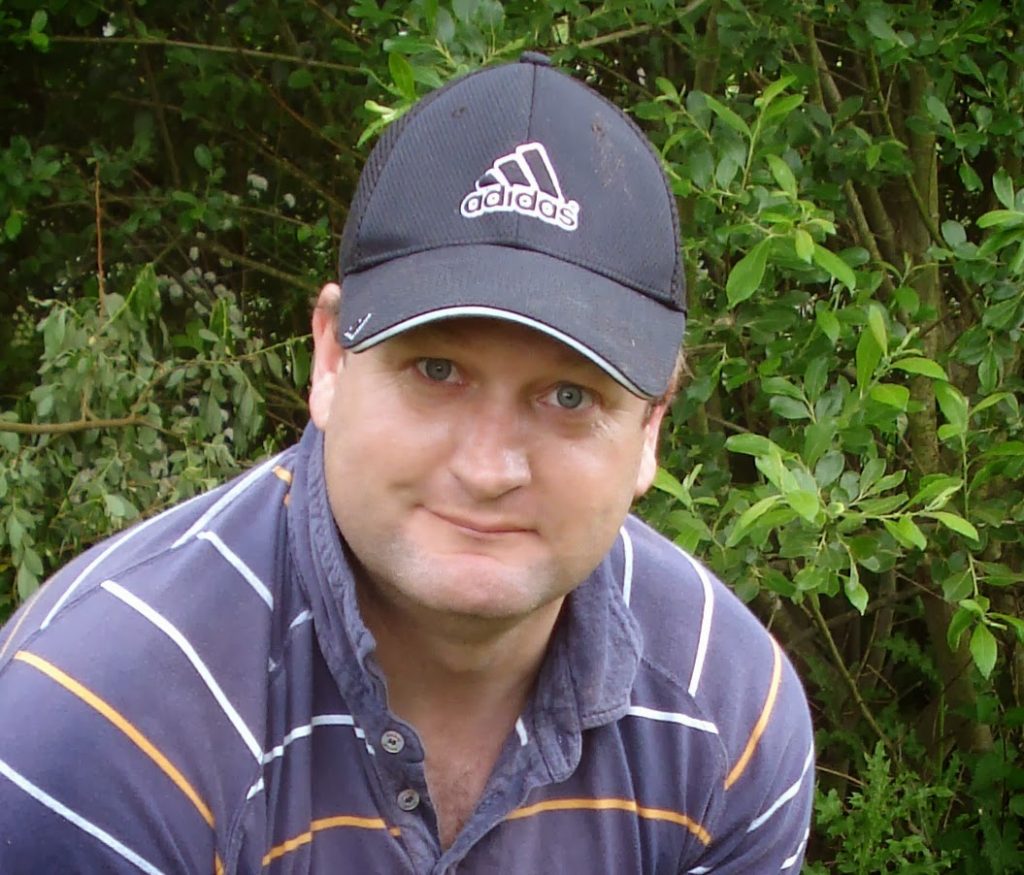 My partner Justin Charles
The canal had fished quite hard with Scott Jackson doing well to finish second with 3lb 10oz, Rob was third with 1lb 11oz and Steve P was just an ounce behind. Still it was all in a good cause and we raised some money for Alzheimer's disease.
1 – Jamie Rich and Justin Charles – 3 pts
2 – Robin Cox and Graham Field – 4 pts
Pond
1 – Graham Field (Taunton) – 7lb 8oz
2 – Jamie Rich (Against Men and Fish/Burt Baits) – 7lb
Canal
1 – Justin Charles (Ilminster) – 8lb 9oz
2 – Scott Jackson (Ilminster) – 3lb 10oz
Well that's it for the Ilminster matches until the summer so next week I'll probably be at Summerhayes so come back to see if I can catch some silvers.
Next up – Summerhayes
What's new – Lots of page updates
Check Out – My last match (below)
Blog of the week – Russell was out again after that elusive three pound perch Russ's Blog