Last night I went to Scotty's 40th (I know, he's had a hard life!) at the Square and Compass and it was a really good night with two good bands, lovely food and it was nice to catch up with Scott and Ash, Alex Murray, James Cooper, Martin Addicot and Bean Searle who I haven't seen for years and the legend that is Jon Martin of course! As I was driving it was pints of coke all night but I did wake up feeling nice and fresh! With no more Ilminster matches until the Summer league, I booked myself and Janders into the match on Sellicks at Summerhayes. It had been fishing quite hard for silvers with just a few pounds needed to win although the carp weights have still been pretty good. I wasn't too bothered to be honest as looking out the window it was a beautiful day with blue skies and the sun was out, it would just make a nice change to stay dry and not have to hang on to the pole for dear life.
We got there and collected some keepnets and paid our pools before having a coffee and saying hello to everyone. Pete announced the draw and I hung back hoping the carpy pegs up the top end would go before I delved in, they did with Janders drawing one of them, peg 13. I did notice peg 5 had gone and I would have fancied that for some silvers today, with only a couple of balls left I stuck my hand in and pulled out peg 4, a great peg and one I've done well off before for silvers. It really was a lovely day and as I got to my peg I saw I had young Reece for company on peg 2. He's a good looking lad and he's just had his hair cut and I reckon he could be in a boy band! Despite my best efforts he wouldn't have a side bet with me on silvers although Janders did agree.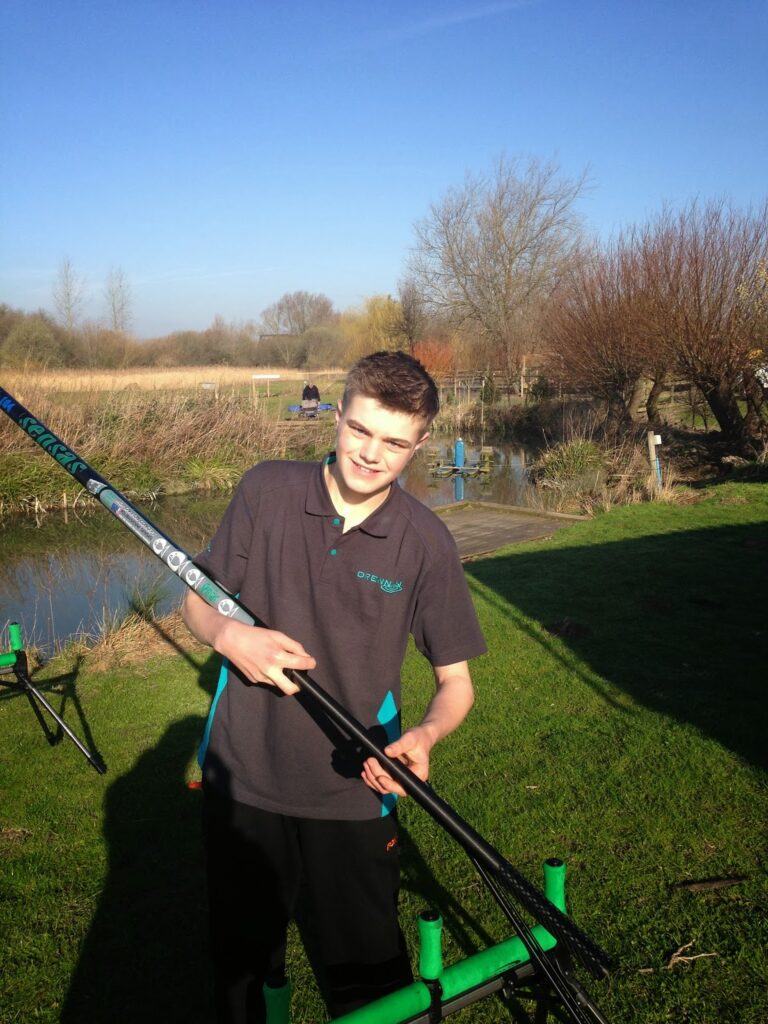 Young Reece (from Take That) was on peg 2
I set two rigs for today a 0.75 gram Drennan AS float with 0.10mm bottom with a size 16 808 and a 0.6 gram Malman Pencil with the same end gear. For bait I had 4mm Bait Tech expanders, micros plus some dead red maggots. The all in was shouted and I fed quarter of a pot of micros at 10 metres angled to my right and half a pot at the same distance but straight out in front of me. I also fed quarter of a cup at 5 metres as I've done well off this line before. I started on the right hand line with an expander on the hook and toss potted in a few micros over the top. I had to wait a while for my first bite and a 2lb carp wasn't the result I'd hoped for, my next bite was also a carp which came off at the net.
I switched to the other long line and had my second carp before losing another one at the net, back on the right hand line and carp number three was netted and we'd only been fishing 45 minutes! Reece had also got off to a flying start and had already landed four of five carp. The carp were obviously having a munch on my longer lines so I decided to try my 5 metre line a lot earlier than I had planned. My first fish from the shorter line was a decent skimmer and I followed this with one of 4oz to finish a fairly frantic first hour. I stayed on this line for the second hour and was getting regular bites on expanders and added another eight skimmers (including some good ones), a lovely little tench of 8oz or so and a small carp.
I had some more skimmers in the third hour but when I had two carp in two chucks I thought I'd rest it and try the longer lines again. I had a couple of blades but also lost a foulhooked carp and caught my fifth carp and was soon back on the shorter line. There wasn't much between me and Reece at the halfway point, he had more carp but I had a few pounds of silvers. I was getting the odd carp among the skimmers from this line and had another come off at the net. Janders walked round to use the loo and said he could only catch blades and the odd carp so the pound was looking safe at the moment. With two hours to go I was still getting enough bites to keep me interested and although I was waiting longer for the bites they were from good skimmers with some around the 2lb mark.
The last hour saw me catch several more carp and two good skimmers and as Reece had slowed up a bit, I thought it might be close between us. My final tally was 33 skimmers, 1 tench and 13 carp and as per usual I had no clue what weight I had. Adie started the weigh in at peg 23 so I didn't catch up with the scales until they reached our side. A quick look at the weighboard revealed the top weight so far was Dan P on peg 15 with 49lb 14oz and Janders was leading the silvers with 12lb 12oz and had done well off that peg, I said that I thought I had double figures and it might be close for the nugget.
Daniel B on peg 9 had 36lb 12oz to go into third place and there was a 7lb silvers weight before we got to my peg. My carp went 35lb 12oz and I needed my silvers to go 15lb to go into the lead and I was amazed (and slightly embarrassed) when my skimmers weighed a level 23lb to give me a 58lb 12oz total which is my best weight at Summerhayes yet. Reece still had to weigh though and I knew it would be close as he had caught some lumps, Adie called out his weight at 51lb 2oz and I'd won! While we enjoyed coffee and crisps, Pete did the results before calling me out as the winner and I picked up £50 (plus a pound off Janders), Reece was second and is on a right roll at the moment (and if the boy band thing doesn't work out, he has always got his fishing!) and Dan P was third.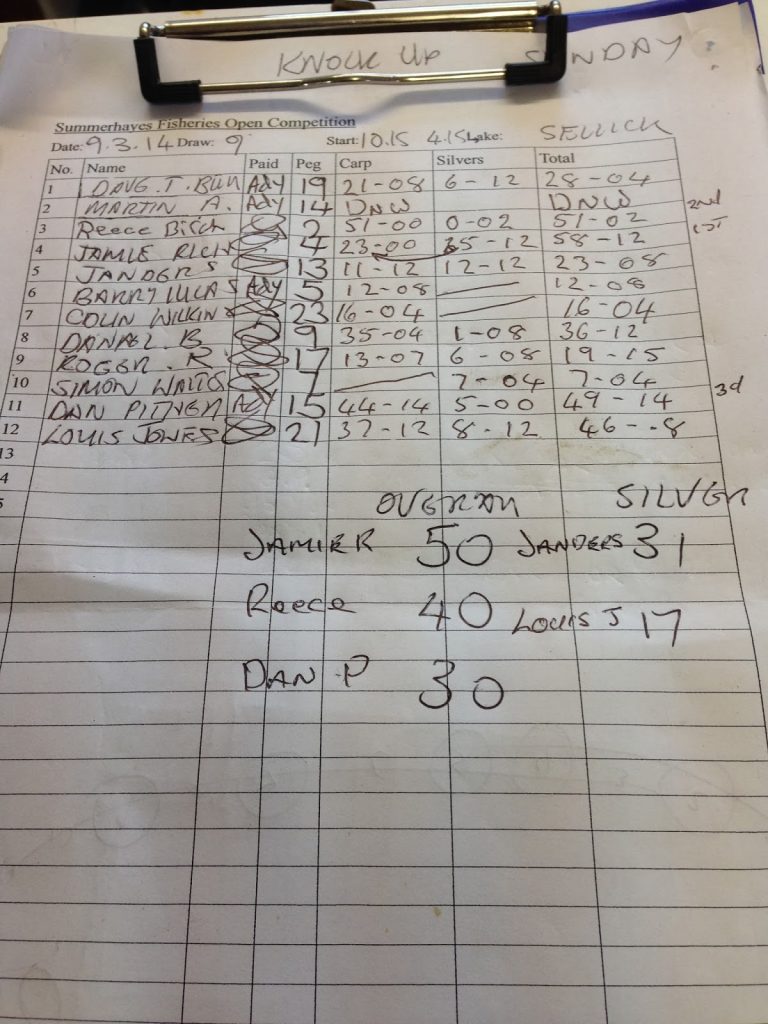 Today's weigh board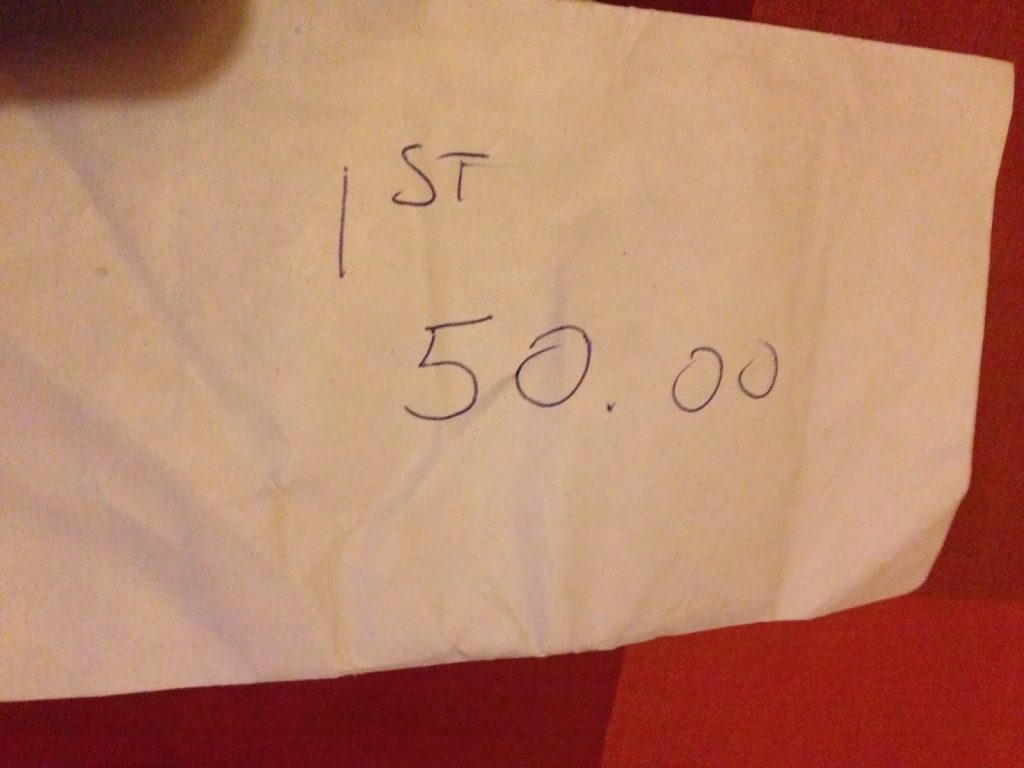 A nice white envelope today!
Janders won the silvers so it was a very happy car going home, a very nice days fishing to top off a great weekend (did I mention Chelsea beat Spurs 4-0 to stay top of the league). That's only my second ever win at Summerhayes but both wins have included lovely bags of silvers which I really enjoy fishing for.
1 – Jamie Rich (Against Men and Fish/Burt Baits) – 58lb 12oz
2 – Reece Birch (Summerhayes) – 51lb 2oz
3 – Dan P (Summerhayes) – 49lb 14oz
Silvers
1 – John 'Janders' Anderson (Donyatt) – 12lb 12oz
2 – Louis Jones (Summerhayes) – 8lb 12oz
So it fished really well with some great weights of silvers and I can't wait to come back next week.
Next up – Summerhayes
What's new – Lots of page updates
Check Out – My last match (below)
Blog of the week – See how the Silverfox got on at the Viaduct today – Mike's Blog