I always look forward to our winter league on the Isle, round 1 was cancelled due to low flows and leading up to this match, we had torrential rain and I was sure we'd be on the pond today but by Saturday the river was nearly back to normal levels.
We all met at the bowling club and were well looked after by Charlotte and Drew and once everyone had arrived, eaten, paid their pools etc, it was time for the draw. Three sections were being used today, Upper Coxes, Hambridge and Isle Brewers with most people hoping to avoid the former (with the exception of the Tank Traps).
The Wheels of Doom spun into action and were kind to Rob who got peg 14, then my name was called out and they obviously hate me when I got peg 22 at Coxes, I was absolutely gutted and felt like going home. I'm hoping we can go back to drawing our own pegs soon as I miss sticking my hand in the bucket. Chris, Nick and Steve had come in the same van and of course all drew different sections and didn't know where they were going. Max said he could take Chris with him and then Nick would follow me to Hambridge, drop Steve off and then we'd go back to Coxes.
After my unplanned detour, we arrived back at Coxes and I showed Nick where peg 15 was (I was in no hurry to get to mine!). I'd double checked with Max where my peg was but when I eventually got there, the wooden marker had 21 on it! A quick phone call confirmed I was in the right swim so I went back and got the rest of my kit.
Plumbing up there was a really deep hole in front, it shallowed up to the right and with the river pacier than I was expecting, I just knew it was going to be a struggle. To cut a long boring story short, I had a few minnows and drank most of my coffee before going for a walk. Danny B was on peg 23 and had caught a couple of small chublets and a perch while Parker 'The Pole' on 24 hadn't had a bite. With not a lot happening there, I wandered back to my peg and continued going through the motions while emptying my flask, not long after Steve headed off for an early bath.
The next couple of hours were painful and with around thirty minutes left, Danny turned up and said he hadn't caught anything else so had packed up, Nick arrived and had also packed up after only catching minnows so it wouldn't take long to weigh us in! I stuck it out to the end but things didn't improve, Danny had the scales and I weighed 1lb 10oz before he helped me back with my kit, we then walked down to his peg and he had 1lb 8oz, Nick weighed 5oz and Rob won the section with 4lb.
As the others began arriving back, Hambridge had been really tough as well, Neil P had a brilliant 11lb of perch and roach from the first one above the bridge, Fieldy found a few roach for 1lb 12oz from the swim below the bridge and the other three pegs had all gone home! Thanks to Neil Purchase for the photos*
Isle Brewers had fished well with Hainsey winning on his first visit with five big chub for 14lb 13oz from 124 (and he lost two as well), Dave Pope weighed 8lb 12oz which included a chub of 4lb 2oz from Barney's Bend, Jake had two chub and a big roach for 7lb 4oz from peg 123, Tony C weighed 2lb 2oz on 128 and Max chucked back on 129. Photo credits – Jake Woodard**
1 – Chris Haines (Haines Angling) – 14lb 13oz
2 – Neil Purchase (Ilminster) – 11lb
3 – Dave Pope (Ilminster) – 8lb 12oz
Sections
A – Rob Cox (Ilminster) – 4lb
B – Jake Woodard (Ilminster) – 7lb 4oz
C – Graham Field (Ilminster) – 1lb 12oz
So a weekend of fishing I was really looking forward to and I ended up disappointed for different reasons both days, if Carlsberg did fishing weekends, this wasn't one of them!
On a more positive note, the Nugget-O-Meter had reached £347 and I'd always intended to do it for a year, finishing at the end of November to basically coincide with the two year anniversary of my dad's passing. With it being Ruthie's Cup presentation night this coming Saturday, I thought it would be perfect to let the Grand Wiz have the money then. I made the total up to £350 and put it in an envelope but then I received a message from an anonymous donor who would like to add a further £50 which is just amazingly generous so the new total is £400!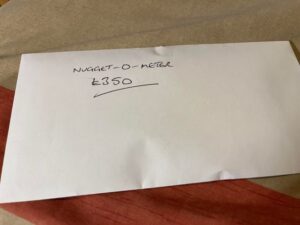 When I started it as my own little tribute to my dad, I hoped perhaps it might get to £50, maybe even £100, so to quadruple it is just fantastic. Massive thanks to everybody who's stuck a pound in, or not accepted payment for breakfast or bait, you're all lovely people.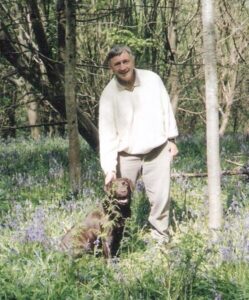 There's still a great offer running if you fancy treating yourself to some new fishing gear, use the exclusive discount code AgainstMenandFish10 to get 10% off when you shop online at Somerset Angling
Xmas is coming along with lots of parties so if you're looking for a Secret Santa present (maybe for somebody you don't like!), I still have copies of my book available from eBay here or Amazon here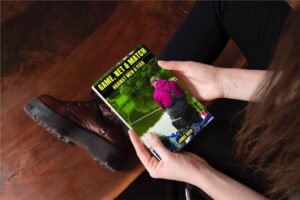 And if you could spare five minutes to leave a nice review on Amazon, it would be very much appreciated.
Next up – Summerhayes
Coming soon – Lots more match reports
Check Out – My last match