Another of those matches I would dearly love to win but to date, fifth is my best result from the first time I qualified in 2017. Waking up to a hard frost was a bit of a rude awakening and the drop in temperature wouldn't be doing us any favours today. I met Zooner for breakfast in the truck stop (when I eventually found it!) and very nice it was too. Then it was on to the fishery and there were 15 fishing the final today with a great pay out for the top five.
As we waited for the draw we witnessed the slightly bizarre sight of Adie walking by with a hoover, he said he was going to clean up today!
All too soon, it was time to find out where we would be spending the rest of the day, first up was the golden peg (worth £150) and peg 34 was pulled from the bucket. I really fancied pegs 13, 17 or 19 and as the names were getting called out and numbers ticked off, they were still in the bucket. With around two thirds of the pegs allocated, my name was next and as Pete delved into the bucket, I really thought I was finally getting my dream swim, until he said I was on 16! Still, it was close but I don't recall it being used too often and somebody mentioned the pallet is set back a little so I could be fishing long today.
Roy got the golden peg and with it being a great area for silvers at the moment, he had a good chance of a mega payday. For company I had Rob Birch on 18 with Jim Jenner the other side on 14. I set up two 0.3 gram Guru AR's for top two to my right and 11.5 metres but when I added the next two sections, I was miles off the far bank. My rarely used 16 metre section came out of the bag along with the dolly butt but even 16.5 metres was still short and bloody hard work! On the side tray I had two pints of red maggots, micros, expanders plus some Bait-Tech Special G F1 and The Juice groundbait.
I was ready with ten minutes to spare so went for a coffee and got back to my peg just as Pete blew the whistle. I fed a little groundbait at top two and 11.5 metres and fired some maggots over, starting short, no indications after quarter of an hour didn't really surprise me given the frost and flat calm conditions. Moving out to the longer line, after five minutes I had a lovely positive bite on single maggot but bumped a little skimbob.
I had a small fish next chuck and was getting regular bites, Steve Collins on peg 12 netted what looked like a decent fish so it was actually fishing okay. Trying double maggot, I had a nice 8oz skimmer and was ticking along nicely although I did bump a slightly better fish. With the first hour gone, I had around a pound in the net which I was fairly happy with as I thought 6-8lb would be good today.
Going into the second sixty minutes, I was still getting the odd small fish but it wasn't frantic. Both Steve and Rob had netted a couple of slightly better skimmers and I was already thinking about having a look longer but then hooked what felt like a nice skimmer but it came off shipping back and one of the maggots had gone over the hook point. Steve was still catching quite well and I felt he was pulling away so with two and a half hours gone, I went out to 13 metres.
After a little wait I had a roach but it wasn't happening, 14.5 metres was no better so I had to bite the bullet and go full length. I didn't get the response I'd hoped for, with just a couple of little roach which was hard work. I was trying different areas along the far bank and laying the rig in near the point of the island, the float sailed away and a better fish was on. Shipping back really carefully I landed a lovely pound skimmer and was hoping I'd get a few more.
I didn't have anything else over the next twenty minutes or so while Steve went even further ahead with a couple more skimmers. Apart from Steve and Alex over on peg 30, everyone else seemed to be struggling. I was just about to come back on the 11.5 metres when the float went and I was into a decent skimmer, knowing how important this fish could be, I was being ultra careful shipping back. I got the pole on the first roller but when I looked back, the fish had come off – gutted!
Next chuck I've hooked one about 6-8oz and I really wanted to make this one count, the trouble with fishing 16m+, which I do very rarely, is that you really need three rollers. I got the pole all the way back but needed to unship at the number five section and ended up jolting it and when I looked back, that one had come off as well which resulted in a bad case of Tourette's for a few minutes!
At this point, I lost my way, in hindsight I should have come back on the shorter line and alternated between the two but I just stayed long hoping to land some better skimmers. Steve had a big leaper and I thought he was out of sight and looking good to defend his title. With an hour to go, I was going through the motions when a bite resulted in a nice amount of elastic coming out only for that one to come off as well and my head was gone!
I still managed two more around 6oz apiece in the last thirty minutes but I knew I'd made a bit of a mess of things today. After packing up, I went to watch the weigh, quite a few on the road bank were admitting to 5lb plus, including Roy which usually means he's got double that! Adie Bishop on 39 weighed 4lb 13oz and then Zooner on peg 4 did well weighing lots of small fish for 5lb 6oz so I conceded the nugget.
Jacko had chucked back on peg 10 and then it was Steve Collins, he weighed 6lb 1oz to into the lead but I thought he'd had more than that. Jim on 14 had 1lb 14oz and then my fish went 4lb 8oz and I needed one of the several I'd had come off – balls! Rob had 2lb 12oz, Paul Purchase on 20 weighed 2lb 5oz, Bill on 22 also had 2lb 5oz and then Kev on 26 and Gabe on 28 had chucked back, so it had fished hard.
Then we got to Alex on 30 and he went into the lead with 7lb 15oz but it didn't last long as Jeff on 32 weighed 8lb 8oz before we got to Roy and when he pulled his net out, he had skimmers, a tench and a perch for 10lb 5oz and would be taking a big fat wedge home. Last to weigh was Glynn on 36 and he had a big perch plus skimmers for 5lb 2oz so the thirties were the place to be with four of the top six weights coming from that area.
1 – Roy Hughes (Summerhayes) – 10lb 5oz
2 – Jeff Sparkes (Summerhayes) – 8lb 8oz
3 – Alex Kerr (Summerhayes) – 7lb 15oz
4 – Steve Collins (Summerhayes) – 6lb 4oz
5 – Jess Jordan (Summerhayes) – 5lb 6oz
A very profitable day for Roy who took home £400 with the golden peg and he's certainly the man to beat when it comes to silvers at Summerhayes (he also won the golden peg again the following day with 14lb odd from peg 31). As always it was a close match with just 14oz separating fifth and eighth place and I certainly had enough chances to frame.
There's still a great offer running if you fancy treating yourself to some new fishing gear, use the exclusive discount code AgainstMenandFish10 to get 10% off when you shop online at Somerset Angling
Xmas is coming along with lots of parties so if you're looking for a Secret Santa present (maybe for somebody you don't like!), I still have copies of my book available from eBay here or Amazon here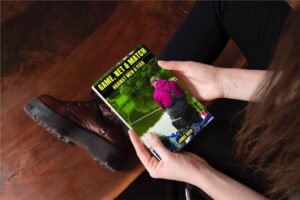 And if you could spare five minutes to leave a nice review on Amazon, it would be very much appreciated.
Next up – River Isle
Coming soon – Lots more match reports
Check Out – My last match