With no clue how I was going to approach this one, I wasn't sure whether I was looking forward to it or not! At the draw there were only 11 of us fishing as the decline in attendances continues. I really fancied having a crack at pegs 1 or 16 but of course pulled out peg 4, I really can't draw for toffee at the moment. Graham Field had peg 16 and Martin Heard drew peg 1, how I wish I could draw like either of those two!
Still there was a match to fish so I made my way to the pond, again my peg was nicely cut out thanks to Moses Holbrook (I've finally found out and remembered his second name!). I mixed up some Sensas Matchblend and Roach and put up two rigs, one my usual Drennan Roach float for open water and a 0.4 gram Drennan Carp for fishing just past the reeds on my inside to the left. I intended to fish over groundbait at 10 metres and also put in a chopped worm line just past the reeds.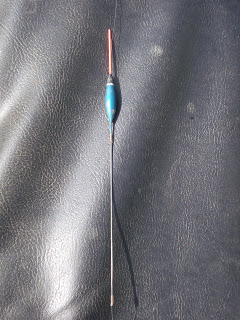 My Drennan Roach float (why won't the bloody thing go under!)
I had Tiverton's Bruce Hunt on my right (although I couldn't see him because of a bush between us) and Rob Cox to my left on peg 6. His was also a golden peg and would be worth a bumper payday if he won off it. On the whistle I cupped in three balls containing maggots, casters and hemp at 10 metres and dumped in some chopped worm and casters just past the reeds. As always I started on the long line with caster on the hook and was soon into small roach on the drop. I'd changed my elastic yesterday to a number 5 blue Preston Slip in the hope it would help stop bumping so many fish. I was getting a few but still missing/bumping too many.
After the first hour I had 16 fish, mainly small roach and had fallen a little short of my target of 20 fish per hour. The second hour saw me slow up even more and change to maggot didn't improve things either. Robin didn't seem to be doing a lot and as I was itching to try my chopped worm line, I felt it was time for a change. I nipped the head off a worm and shipped out, the wind was starting to be a pain in the ass although the rain hadn't started yet. The rig settled and it wasn't long before it submerged out of site and I was swinging in a 3oz perch. I had eleven in as many chucks and as they were bigger than the roach on the long line I started to think I might put together a weight.
Looking around the pond it looked like it was a struggle for most, then my bites stopped so I put in some more chopped worm and went back on the long line. Things were just as bad there and I was only putting the very occasional fish in the net. Then the shout went round the pond that Martin had a big fish on, it turned out to be a biggish carp (probably an escapee from some ponds upstream as none had been stocked!). After a lengthy battle he netted it and might as well have packed up there and then as the match was won.
Big Frank turned up and after a brief chat went up to see Martin, he came back to report that besides the carp he had around 70 roach! which was a long way ahead of my 33 fish. Robin had a run of small skimmers up in the water (which was nice to see, we just need a few more thousand of them now!) and while Frank was with him he struck into something a bit more substantial which turned out to be a bream of 4lb or so. I was now being stuffed all around once again. My chopped worm line was now dead along with the long line and I was out of ideas again.
Knowing that Robin was catching odd fish up in the water I tried my inside rig on the long line and started catching odd roach on caster, I found that by swapping between my two lines with the same rig I could catch a couple of fish before they backed off and I would have to swap lines again. Without really bagging up I kept putting the odd fish in the net including some quite nice roach. Oh, did I mention that along with the wind it had now started raining heavily. I ended up with 57 fish which was exactly the same number I had Wednesday night for 3lb 14oz, surely today I must have had more than that weightwise as I had some better fish. Well I wouldn't have long to wait to find out as I had the scales.
I started with Martin, his carp weighed 8lb 10oz (a handy bonus!) and along with his roach he weighed 12lb 9oz, the first double figure weight this year on a Sunday. Bruce Hunt had 5lb 7oz and I didn't think I had that, my fish went 4lb 5oz which was better than Wednesday night but not by much. Robin's bream was 4lb 2oz and his total was 7lb 4oz which ment the golden ball was safe once again. The last angler I had to weigh was Alvin who had 2lb 2oz, he's unstoppable on Wednesday nights but Sundays seem to be like Kryptonite for him, welcome to my world! I started to think I might might sneak my section by triple default if Bruce framed as Alvin reckoned the anglers on the other side had struggled.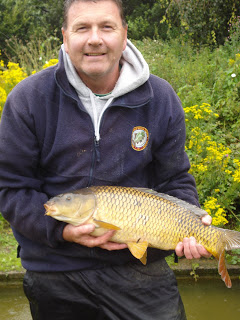 Martin with his 8lb 10oz carp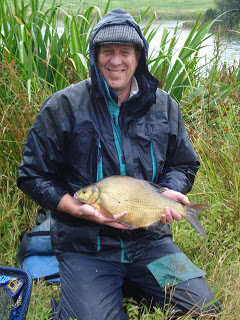 Robins 'up in the water' bream
Back at the results and they hadn't struggled that much as Graham had pipped Bruce by 2oz – bugger! Martin was confirmed as the winner with Robin in second and Graham in third. Bruce won our section and Neil Dring won the other one with 4lb 2oz. The pond had actually fished a little better although those two bonus fish flattered the weights a little. Steve Parker had a bad day losing several big perch which led to him declaring he wouldn't be coming back again, so another one bites the dust. We've gone from a respectable 16 anglers down to 10, still at this rate by Xmas I might actually have a chance of winning a match!
1 – Martin Heard (Tiverton) – 12lb 9oz
2 – Robin Cox (Ilminster) – 7lb 4oz
3 – Graham Field (Taunton) – 5lb 9oz
Section A – Bruce Hunt (ALS) – 5lb 7oz
Section B – Neil Dring (Ilminster) – 4lb 2oz
After six matches and dropping the worst result, Bruce still leads the way with 8 points followed by Graham and Martin on 11.
Next week we're back at Chris's pond so tune in for more tales of doom and gloom.